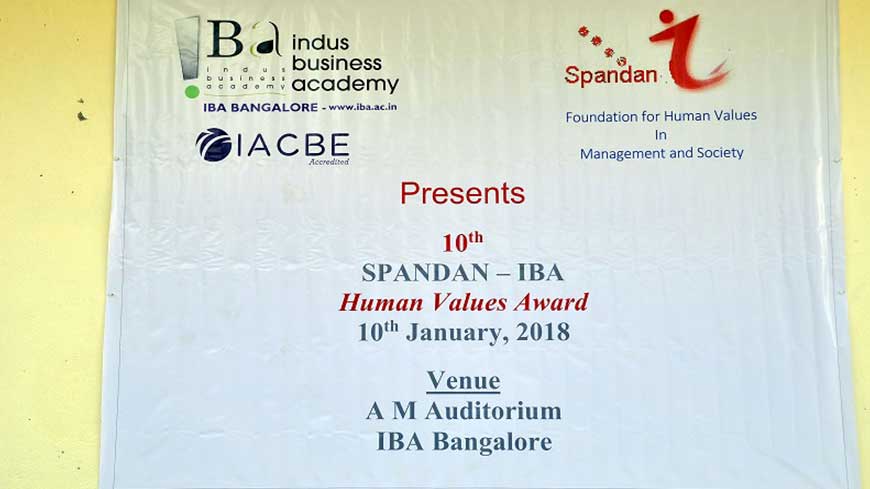 10th Spandan-IBA Human Values Award
The 10th Spandan-IBA Human Values Award Program was organized by IBA on 10th Jan 2018 at AM Auditorium, IBA. The program commenced with lighting the lamp followed by invocation by students. Dr. G.P. Rao, Chairman & Co-Founder Spandan Human Values, addressed the gathering and explained the purpose of the award. He conferred the Spandan-IBA Human Values award to Dr. A. Ramachandra Aryasri, Professor, CBIT, Hyderabad.
Dr. Subhash Sharma, Director IBA Bangalore, presented his thoughts on 'Human values vision for better humanity.' He presented a book 'Conversations on the remaking of Managers' to the delegates. The Chief Guest of the award program Mr. C.K. Ashok Kumar, Industrialist, Co-Founder of Sachet revolution in India Industrialist, exporter Velvette Chik Shampoo, Cuddalore, Tamil Nadu, shared his beautiful thoughts and experience on, 'My insights and experiences of human values in management.' Students interacted with him.
The Spandan-IBA Human Values Award Winner of 2018, Dr. A. R. Aryasri during his acceptance speech shared his valuable thoughts on 'Personal and Organizational Excellence through Human Values and Ethics.' Prof. A. Ramana Acharayulu, IBA Bangalore shared his valuable thoughts and experience on human values. Ms. Mansi Lalchandani, PGDM 1719 batch student, IBA Bangalore gave a speech on 'Human Values at workplace'.
At the end, Prof. B.M. Gourish, IBA Bangalore presented his thoughts on industry based 'HR perspective on Employee and Management Values'. He shared his thoughts on personal values, social values, family values and depicted old inspirational songs from movies which inspires to understand on simple living and high thinking. The program concluded with Vote of Thanks from Prof. B. M. Gourish.