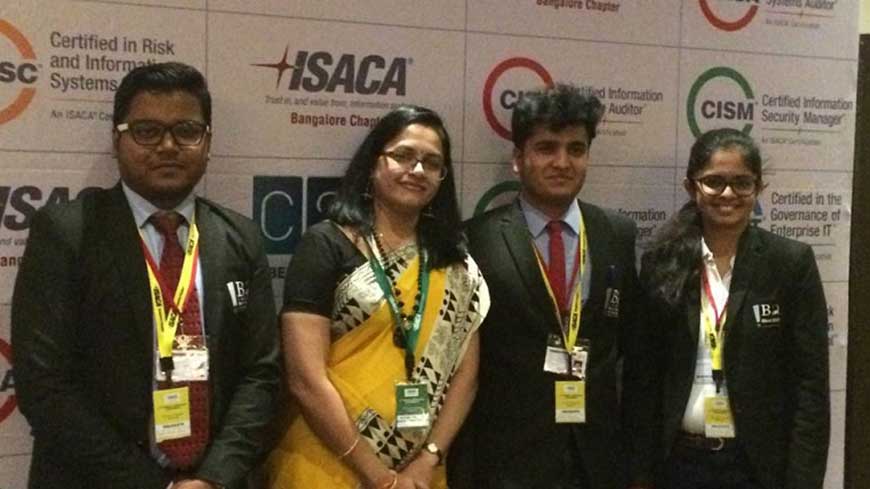 20th Annual Karnataka Conference, ISACA Bangalore Chapter
"Cyber India – Emerging Frontiers"
Date – 21st and 22nd of July 2017
IBA students along with Prof. Butchi Babu M participated in the 20th Annual Karnataka Conference, ISACA Bangalore Chapter. The conference was a two-day programme of presentations, panel discussions and interactive dialogue around the theme "Cyber India – Emerging Frontiers". The event was inaugurated in presence of the Chief Guest, Commissioner of Income Tax, Mr. G. R. Reddy. The event brought together many speakers from different organisations to review the emerging frontiers of Cyber Security in India.
Mr G. R. Reddy shared amazing ideas about the revolutionary changes in the Taxation of India. With the advancement of technology and use of internet in financial and fiscal affairs globally has necessitated the e-filing of Income Tax in India also. The Income Tax website of India has revamped completely and has eased the returns filing at any time, it allows taxpayers receiving refunds to get them sooner, taxpayers get instant acknowledgement of receipt etc. Many value added services like tracking of refunds, email, SMS alerts regarding status of processing and refunds have been automated. The main challenge was risk of security. The new effective method of filing income tax return through online and make e-payment tax has brought down the risk to some extent. In his conclusion he expressed his concern over the technical glitch that occurs while linking the TDS Certificates, which he promises to curb soon.
Ms Deepa Seshadri talked about "Emerging Trends in Cyber Assurance." She spoke on how cyber security affects the audit which results in loss of contact value with customers. She also shared her views on how their organisation was affected by the lack of cyber security and its aftermath effects on confidential information. She also shared her views about cyber security prospective like Project Management, Security Policy, Protective Data, Identity Access Management, Infrastructure Security and Software Security.
Mr Vishal Salvi talked on recent global burning issue i.e., "Ransomware Attacks." According to him this is vital issue as this is not the first time that this type of attacks have taken place. Such attacks have been rigorously taking place from 2002 to till date. He said that every organization should have zero tolerance for IT Hygiene with the help of Patch Management, Admin Access and AV Signature Update.
The next talk was taken up by Ms Vidya Rajarao who took the issue of "Cyber Crime and Fraud from boards prospective." She approached the idea of cyber security by showcasing the various risks and vulnerabilities associated with today's technologies and information flows that go well beyond conventional IT thinking. She shared insights on how to approach the ties between security management and business performance. She said that there needs to be better alignment of IT to business objectives, increased readiness, scalability and flexibility, rigorous cycle of risk identification and management, future-focus to anticipate emerging challenges.
The session on "Our Role in the AI driven future" was presented by Mr Pankaj Rai, Sr. VP Strategy – Wells Fargo. The session consisted of the effect AI has and will have on businesses and organization and subsequently on the world. Taking the example of Elon Musk's Tesla, which is currently developing AI driven robots, the corporate world is currently divided on this topic. Some support the idea of implementing AI in businesses and organization, because it will boost efficiency and output of the business. Whereas some others don't support the idea of AI driven work, stating that it will further boost the unemployment rate. Additionally, the AI needs to be kept in check and under control. Yes, AI can excel where human capability gives up, but there are still some areas where AI can't match the human instinct.
Mr. Dhandhapani gave a session on "Digital anywhere and everywhere is inevitable", a new point of view on how to manage information security in Digital Economy. His focus was more on Digital Economy because it brings transparency, it makes complex data simple but with this benefits it also brings security threats everywhere. Addition to this he said that performance and control work in tandem as tools for Digital Economy Security which also includes Data Security, Internet Security & Technical Security. According to him Companies must become more innovative to better respond to the highly competitive, global business environment.
On the second day Mr Atul Kumar, gave presentation on "Cyber Cloud in BFSI." It is true to every extent that technology has taken over every sector in the world. But only technology doesn't create an impression on customers, what really matters is the Graphic User Interface or GUI. Nowadays, cloud is now considered a growth driven by banks rather than just a medium for bringing costs down. There are many industry driving cloud adoption in banking, some of them being distributed IT, increased agility, distribution decoupling, easier maintenance etc. Cloud services are accelerating at a rapid pace, this can be confirmed by the fact that the rate of cloud adoption in FSI exceeds the broader market. Mr. Atul Kumar predicted that in next 20 years, banks will disappear since everything is moving to mobile and on different platforms etc.
Mr Sunil Varkey gave a session on "Audit considerations in the Digital World." According to him audit firms have to make investments in people and technology to be able to dig deeper into the data and reveal more about an organisation's wellbeing and its risks. Only audit technologies should be such that they will drive audit quality and provide insights to auditors and company on a both financial and operational matters.
Ms Jayasree Iyer undertook a session on "Cyber Crime". She spoke about the revolutionary things that took place due to internet like Online Journal, You Tube etc. According to her one must be more aware along with being cyber savvy and also know how to be safe in the cyber world and protect their digital identity. She said Cyber Security & Policy should be taught to the students along with their curriculum.
Mr Sriram Krishnan gave a session on "Security & Risk Management". He stated that it is critical for risk and security leaders to provide relevant business aligned content, abstracting out all the direct technology references. Relate security & risk to business impact, understand what decisions your target audience makes every day. 35% of all security breaches take place in higher education. He also discussed about higher education Threat Vectors like openness, decentralization, phishing, social engineering, malware, cloud services.
Session by Mr Sebastian Edassery aimed at highlighting the necessity of an appropriate strategy for managing the risks to a certain extent. He said that internationally accepted practices in traditional cyber forensics has different phases like collection, preservation, validation, analysis and presentation of the results. He also spoke on possible effect of biometric in forensic science, mitigating challenges through forensic readiness which includes SAAS & PAAS and also talked on identifying appropriate forensic model.
The session on "Impact of GST on Cyber India" was profoundly based on tackling issues that were prominent in the taxation system that existed prior to this. GST has taken many steps ahead i.e., making every process transparent and digital for all the tax payers. Inclusion of Digital in the GST system has become more prone to cyber-crimes but the GSTN assures that the tax payers' data will be completely secure and safe.