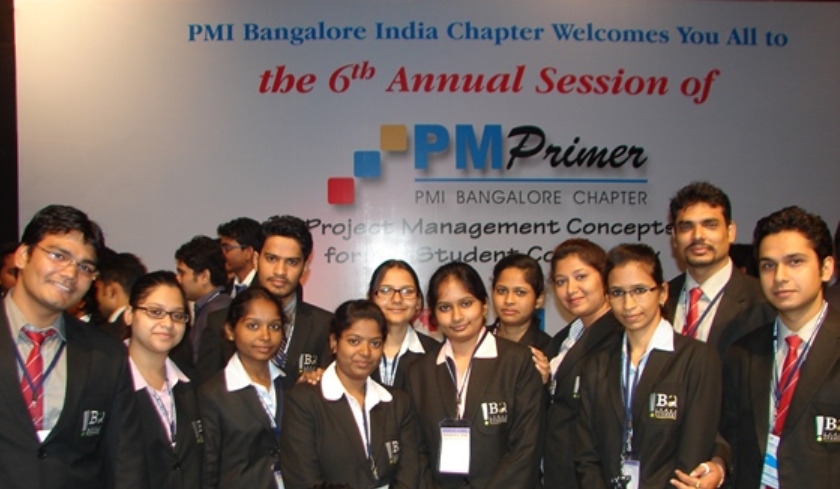 Date: 19th Sept. 2014
6th Annual Session of PM Primer
The students of IBA attended the 6th Annual Session of PM Primer organized by PMI Bangalore India Chapter on the 19th of September 2014. The session kicked off with Mr. Rahul (Master of the Ceremony) addressing the participants and welcoming one and all. He briefed everyone about PMI Bangalore India Chapter and the history of PM Primer. He then went on to introduce the dignitaries of the event – Mr. Murali Santhanam (President – PMI Bangalore India Chapter), Lt. Col. (Retd.) L Shri Harsha (Director-Academic Relationship – PMI Bangalore India Chapter) and the Chief Guest Dr. B.N. Suresh (Vikram Sarabhai distinguished Professor – ISRO Head Quarters) as well as the Session speakers – Mr. V. Krishnan (Principal Training Architect, Campus Force – HCL Technologies) and Mr. Satish Chandra (Freelance Project Management Consultant).
Subsequently Mr. Murali gave the Welcome address which was followed by the Inaugural address from Dr. B.N. Suresh. After this, First session was taken by Mr. V. Krishnan, who went through the basics of Project Management and covered topics like Definition of Project, Constraints of Projects, Responsibilities of Project Manager, Project Charter, Project planning and Project Management – Knowledge areas. After this everyone went for some Tea & Snacks which was followed by the Second session.
The Second session was taken by Mr. Satish Chandra, who focused on the aspects of Project Management once the Planning part is complete. The topics he covered included Execution, Monitoring and Closure. He stressed that rather than doing tasks, Project Managers should be able to get tasks done from subordinates; which is why Teamwork and Leadership skills play a major role in a Project Manager's success. The Second session was followed by a brief Q & A session, after which the Closing address was given by Lt. Col. (Retd.) L. Shri Harsha.
As the event came to an end Mr. Rahul called up everyone on stage to take a grand pic of the day's gathering; after which everyone went for Lunch and the event came to a close.