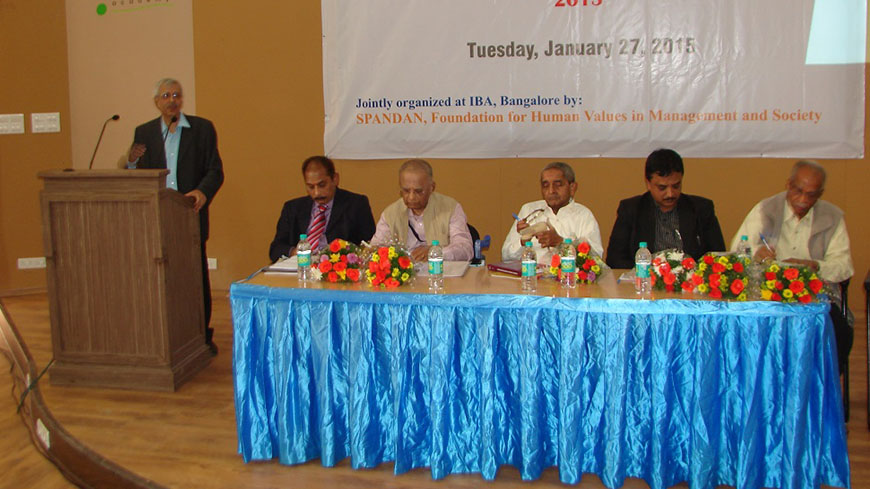 7th Spandan-IBA Annual Award in Human Values – 2015
 
In association with
 

Spandan

Foundation for Human Values in Management & Society

Indus Business Academy

Bangalore & Greater Noida
On 27th of January 2015 the 7th Spandan-IBA Annual Award in Human Values took place in IBA Campus. The award aims at identifying and honouring individuals involved in inculcating human values as an integral part of work ethic and culture in their own spheres of activity.
The ceremony started off with a welcome speech given by Dr. Subhash Sharma, Director – IBA Bangalore and was followed by an inspiring speech by Prof. G.P.Rao (Founder Chairman of Spandan) and Prof. Rajuswamy (Founder & President of PROMAG) in which they detailed the background and ideology for the award. The Guest of Honour for the event; Dr. Masood Ahmed (Director General of AIMS); then addressed the gathering. The shortlisted nominees were namely – Mr. Stephen Randall (Director of Time, Space, and Knowledge Association, Berkeley-USA), Dr. V.Balamohandas (Former Vice-Chancellor of Acharya Nagarjuna University, Andhra Pradesh-India), Dr. Tikhe Sham Ganpat (Assistant Professor at Swami Vivekananda Yoga Anusandhana Samsthana (S-VYASA) University, Karnataka-India), Dr. Madhu Viswanathan (Professor of Business Administration at University of Illinois, Champaign-USA) and Mr. J. Jagatheesh Jayanand (Senior Manager at Accenture Services Private Limited, Karnataka-India).
Although it was real tough to adjudge one winner; but at the end of it all, Dr. V.Balamohandas emerged as the jury's choice for the 7th Spandan-IBA Annual Award. Dr. V.Balamohandas has more than 67 years of experience and belongs basically to Sattenapalle of Guntur District in Karnataka. He completed his PhD from Andhra University, Visakhapatnam and also served there as Professor of Management Studies. He later went on to become the Vice-Chancellor of Acharya Nagarjuna University.
The day came to a close with the jury presenting award to Dr. Balamohandas who expressed his gratitude to one & all for recognising his humble work in education suitable for this award.