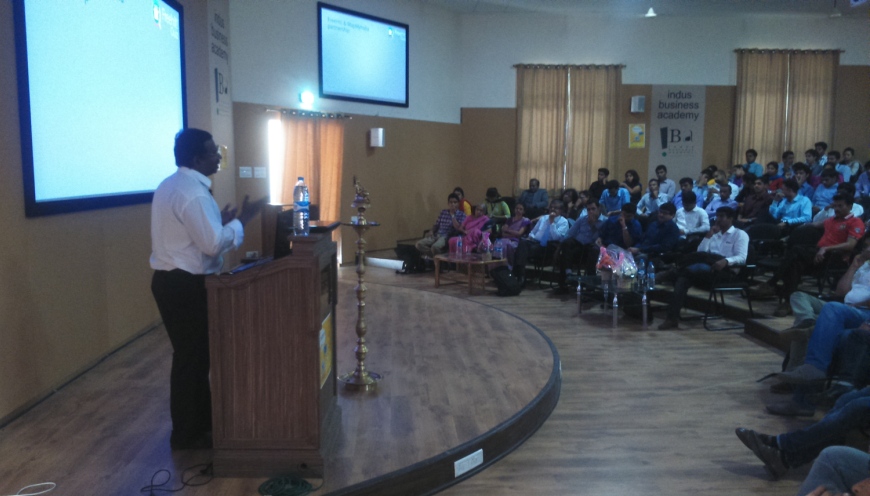 Campus Disrupt – Where Start-ups meet College
Date: 27th June 2015
Indus Business Academy, Bangalore hosted "Campus Disrupt – Where Start-ups meet College", an entrepreneurship event in which post graduate management students interacted with Start-up entrepreneurs on 27th June, 2015. This event was conceptualised and organised by 'Start-up Curation' in association with NASSCOM as a part of its 10K start-up initiative.
Mr. Ashok Madaravally, Senior Manager – NASSCOM, delivered the keynote address. In his address he emphasised on the need for entrepreneurial thinking and reinforced the fact that the present conditions in India and around the world are more conducive than ever for start-ups. He also elaborated on the 10K start-up initiative of NASSCOM and assured students of mentoring and funding support.
Mr. Sugato Ray, Associate Director – Flutura, Mr. Pranay Agarwal, Co-Founder & CEO – RoboCraze, Mr. Gomathi Sankar, Co-Founder & CEO – Mocept, Mr. Arvind Pani, Co-Founder & Director – Reverie, Mr. Yuvaraj Thanikachalam, Founder & MD – Hungry bells, Mr. Mahesh Gidwani, CEO – Drivekool shared their experiences of starting an enterprise and encouraged students to join the bandwagon of start-ups. Students also, shared their dream business ideas and narrated the support they expect from organisations which encourage entrepreneurship. In addition to students of IBA this event was also attended by the students of IFIM Bangalore. Dr. Veena K N, Mentor – Entrepreneurship Learning and Incubation Center [ELIC] IBA, gave an introduction of ELIC to the present audience. Dr. M S Ramachandra, Principal – IBA, proposed the vote of thanks.