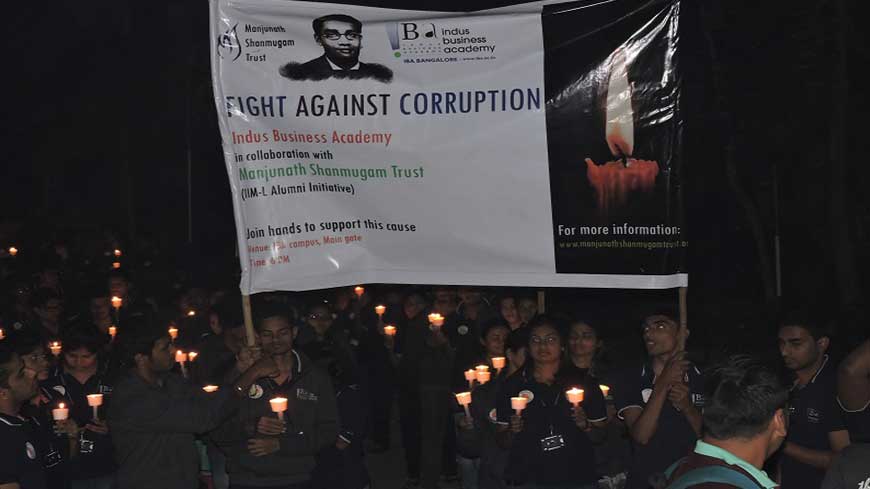 Candle March in Memory of Late Mr. Manjunath Shanmugam
Date: 19th November, 2016
IBA in collaboration with the Manjunath Shanmugam Trust (MST) organized a Candle March marking the "11th Death anniversary of Late Mr. Manjunath Shanmugam" on 19th November 2016.
Background
The Manjunath Shanmugam Trust (MST) is an international corporate community initiative to improve governance in Indian public life. Manjunath Shanmugam was an IIM-L alumnus and an IOCL Sales Manager, who was murdered on 19th November 2005 at Lakhimpur Khiri, UP. Manjunath refused to take bribes and ignored threats, to fight oil adulteration. MST fought the case relentlessly; after a record 9 months' trial, all eight accused were found guilty, with the main accused given the death sentence and the rest, life imprisonment.
The accused appealed in the Allahabad High Court. The Lucknow bench of the Allahabad high court upheld the conviction and life imprisonment of the 6 main accused – including the petrol pump owner. This judgment was a big victory for the people of India and for all those who believe in the rule of law. The convicts had appealed against the verdict in the Supreme Court. The Supreme Court upheld the verdict given by high court on March 11, 2015.
On the 19th of November every year, Manjunath's death anniversary is observed across various B-Schools including IIMs and IITs in the form of Candle March. Thus keeping his memory alive – honoring the values he stood for. In one voice, the youth take a pledge: I commit to lead a life of Integrity.