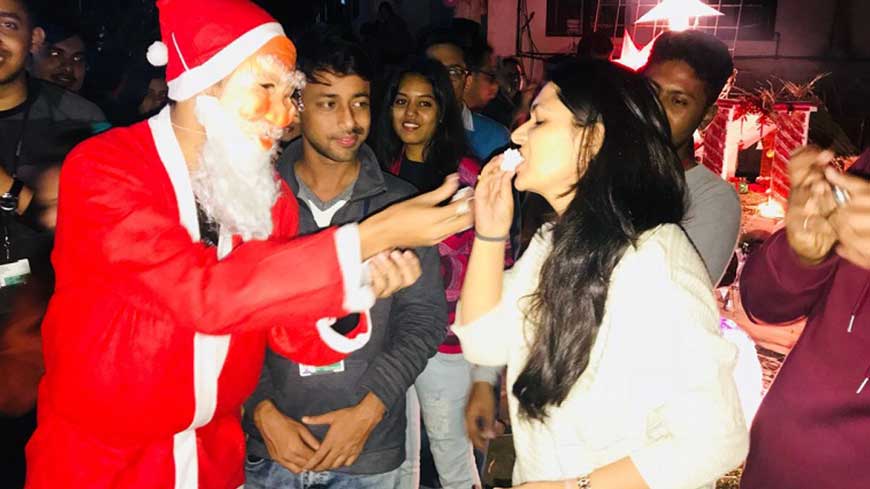 St. Patrick's Church, the place where IBA students had been to for the Christmas Eve. The fantastic electric X-Mas tree was a feast for the eyes in the church. Starting the eve of Christmas in holy place like St. Patrick's church made it even more memorable. It was a learning in itself for the students to spend the night of 24th December in the church till 12:30 as they witnessed people from different strata of society coming together and celebrating the Christmas with equal joy and happiness.
On the Evening of Christmas everyone in the campus were invited to Christmas celebration. The decorations included a Model of Santa Clause carrying gifts, beautifully decorated X-Mas tree, perfectly placed Star Decorative lamps along with admirable portraying of Jesus' birth. The efforts of the organising YMCC team were appreciated & loved by everyone. Everyone was clicking lovely pictures and posing to get a perfect selfie with the decorations.
HO HO HO! Came the Santa shouting these words and exciting everyone. Then came the delicious cake for the occasion of Christmas. Santa Claus cut the cake and distributed it first to the tiny tots in our campus and later everyone was served with the delicious cake. Cake distribution was followed by the most awaited part of the celebration that is Bonfire, placed in the Convocation Ground where the tree was given a snowy appearance. Bonfire was most waited part because that is where the confessions were going to be read out. Confession boxes were installed two days before in campus at two places and students were asked to drop their confessions anonymously. Some of them wanted for the confessions part because they wanted to see if someone has written anything lovely for them and some of them were eager to see the expressions of people for whom they have written the confession when it was read out. There were compliments, comments, proposals, suggestions, questions aplenty and everyone was hooting and enjoying it. Some students were teasing and taking out their friend's name out even if they were nowhere related to it. That is what friends are and celebration is what unites all of us in our busy mundane schedules. It is a teaching in itself that in IBA the whole family celebrates every festival irrespective of religion, caste, creed or region and making everyone feel like an inseparable part of ONE single family.