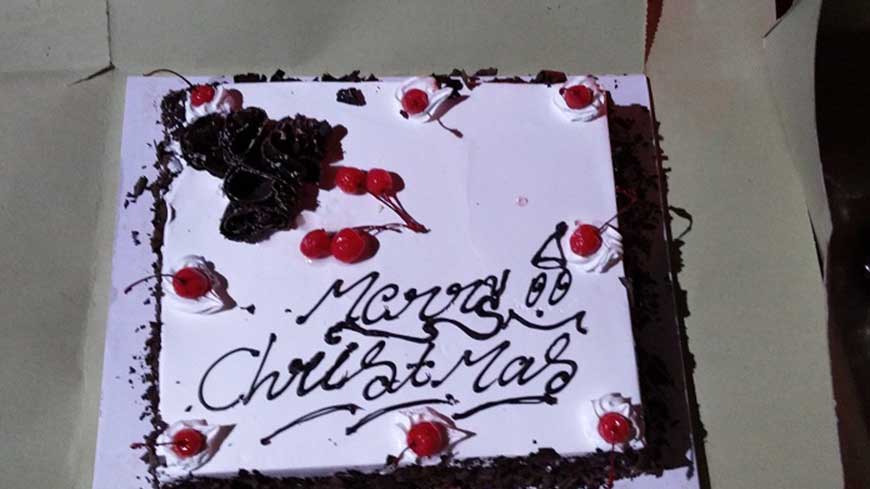 Date: 24th & 25th December 2016
The last month of the year brings in happiness, excitement and lots of enthusiasm in everyone. It has the happiness of the pleasant winter weather and excitement of the most awaited events; Christmas and New Year. Like every event Christmas was also celebrated in IBA, with great pomp and glory. On 24th Dec, 2016 students went to Church to attend the Christmas Mass. They experienced the serene atmosphere of the church and enjoy the decorations around the city. Students also decorated the campus area for celebrating Christmas. All the trees were lit up and Christmas tree was brought in too. A small hut was also built, where the birth of Jesus was showcased with miniature figurines. The snowman added beauty to the wonderful decorations.
On 25th December evening, students celebrated the birth of Jesus by cake cutting and singing songs. 2 students also dressed up as Santas, distributed sweets to everyone. There was happiness everywhere. Students clicked pictures to their heart's content. The fun part was still awaited, when everyone headed towards the bonfire ground.
The organizing committee YMCC had placed a box in the campus where the students were supposed to put in their confessions. The confession box was full by the time of bonfire and all the confessions were read aloud. This was the most funny and happening part of the whole day. The confessions made were surprising, shocking and adorable as well. While some students confessed their love for another, on the other hand some clarified their misunderstandings. Some confessions were questions for some students and while some advises for others. All the students were eager to listen to all the confessions standing around the bonfire. The day ended by a song sung by a student from the senior batch.