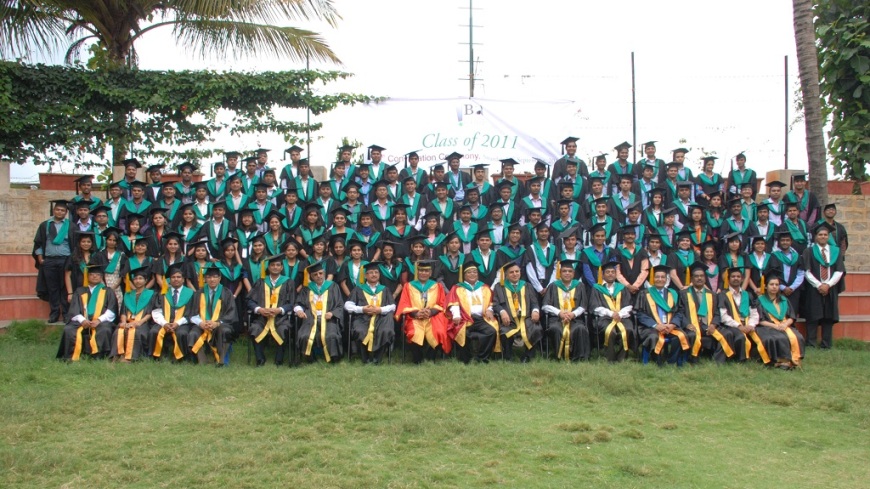 Convocation Ceremony for 9th batch of
"INDUS BUSINESS ACADEMY-Bangalore"
10th September, 2011
"Ya Kundendu E, tushaar Haar dhavala, Ya subhra Vastravita,
Ya Veenaam Vardanamandit karo, Ya Shwet Padmasana,
Ya Bramhachyut Shankar Prabhitibhir, Devai Sada Vandata,
Saa Maa Saraawati Bhagwati, Neeshesh Jaadyapaha"
It was a lovely afternoon on the 9th of Sept, 2011 when the whole IBA family gathered to congratulate the 9th batch (2009-11) of IBA, Bangalore for passing out successfully and wishing them all the lucks for their future endeavors. This auspicious day started with the blessings of "Goddess of Knowledge" after the above mentioned quotes of Saraswati Vandana were chanted by students which filled the aura with purity & peace. This magnificent event symbolizes "A new beginning" in the corporate world and was honoured by lightening of the lamp. Shri. Pradeep Bhargava was the chief guest for the day. Shri Pradeep Bhargava is presently the Managing Director at Cummins Generator Technologies India Ltd. and is an alumnus of IIM – Ahmedabad (1972 Batch) as well as IIT – Kanpur (1970 Batch). Well known dignitaries of IBA including Mr. B.M.L Jain, Chairman – IBA, Dr. Subhash Sharma, Director – IBA, Mr. Manish Jain, CEO – IBA and Mr. Pradeep Kumar, Governing Council Member – IBA along with all the faculty members graced the event with their presence. The ceremony started with the welcome speech by Mr. Manish Jain followed by addressing the gathering by Mr. B.M L Jain, Chairman – IBA and other speakers on dais. Students graduated with flying colors and the same proud was visible on their as well as their parent's faces. Several students received various awards & Scholarships which included top 2 students in academics of each trimester in the 2nd year. Ms. Joshi Viraj Suresh and Ms. Patel Prachiti Prakash grabbed the honours for the 4th trimester while Mr. Nipun Maheshwari and Ms. Shruty Bhattacharya won the laurels for 5th trimester & Ms. G. Sowmya Bala and D'Cunha Brian Valerian bagged it for the 6th trimester. All of them received a cash reward of Rs. 6000/- each. All the students were conferred their degree certificate by Shri. Pradeep Bhargava with a ray of hope to see them at top levels of different capacities in the new world that they were stepping into. As our slogan goes "Think Beyond… Think IBA", its significance was well demonstrated by the Batch 09-11. It was now time to end the event by thanking all those who were present which was well presented by Prof. Arvind Dholakia with a hope that the passing out batch will make their Alma Mater proud at different levels.