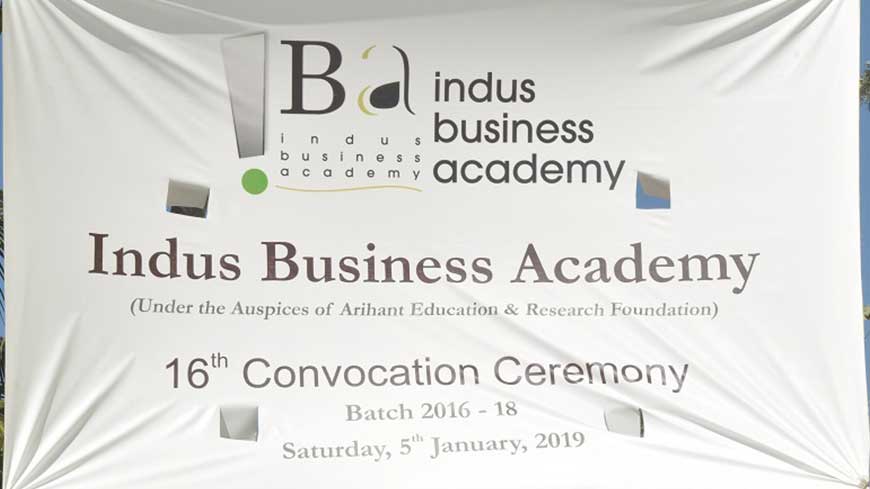 Convocation Ceremony for Class of 2018
Indus Business Academy, Bangalore
Date: 5th January 2019
The day all graduates await for in their student life is the day of graduation or the Convocation day, when they are all officially declared Graduates and industry ready. The day started with the clusters passing out students arriving with joy on their faces and a sense of accomplishment in their hearts.
"Ya Kundendu E, tushaar Haar dhavala, Ya subhra Vastravita,
Ya Veenaa Varadanda manditakara, Ya Shwet Padmasana,
Ya Bramhachyut Shankar Prabhritibhi, Devai Sada Vandita,
Saa Maam Paatu Saraawati Bhagwati, Neeshesh Jaadyapaha"
The ceremony started with students chanting above mentioned quotes of Saraswati Vandana, filling the aura with purity & peace and blessings of the "Goddess of Knowledge". A beautiful afternoon, as the whole IBA family gathered to congratulate the 16th batch (2016-18) of IBA Bangalore on the 5th of January 2018, for passing out successfully and wishing them the best for their future endeavors. It goes without saying that the convocation ceremony symbolizes "A new beginning" in the corporate for the passing out students and was honoured by lightening of the lamp by the respected dignitaries.
The Chief Guest for the event was Hon. Shri. Faqir Chand Kohli popularly known as F. C. Kohli, an Indian industrialist. He is frequently referred to as the Father of the Indian Software Industry due to his significant contribution in Indian IT industry. He was the founder and first CEO of Tata Consultancy Services, India's largest software consultancy company. A university gold medalist at the Government College for Men in Lahore from Punjab University, Lahore where he studied before India's independence, Shri Kohli completed his BSc (Hons) in Electrical Engineering in 1948 from Queen's University, Canada and subsequently finished MS in Electrical Engineering from the Massachusetts Institute of Technology, U.S.A in 1950.
He worked for a year at the General Electric Company, Canada and subsequently joined Ebasco International Corporation, New York Connecticut Valley Power Exchange, Hartford and New England Power System, Boston for training in power system operation. TCS was established in 1968 and Shri. Kohli was appointed its first CEO. In 1974, he was made the Director-In-Charge and in 1994 Deputy Chairman of TCS. He is also a Director on the board of Tata Sons Limited, Tata Industries Limited, Tata Unisys Limited, Tata Electric Company, Tata Honeywell Limited, Bradma of India Limited, Airline Financial Support Services India Private Limited, Tata Technologies Limited Singapore, Investor Services of India Limited, Triveni Engineering Works, Abacus Distribution Systems and Airline Software Development Consultancy India Private Limited. He is also Chairman of Tata Elxsi India Limited and WTI Advanced Technology Limited. He was also a president of NASSCOM for 1995–96.
In 2002, Shri Kohli was awarded the Padma Bhushan, India's third-highest civilian honor, for his contribution to the Indian software industry. He also has been awarded honorary degrees from Shiv Nadar University, University of Waterloo, Canada, Robert Gordon University, U.K, IIT Bombay, IIT Kanpur, Jadavpur University, Queen's University and University of Roorkee. He is also a fellow of IEEE (U.S.A), IEE (U.K), Institution of Engineers India, and Computer Society of India among others.
Well known dignitaries of IBA including Dr. Subhash Sharma, Director, IBA Bangalore, Mr. Manish Jain, Founder & CEO, IBA Bangalore, as well as Mr. Pawan Kumar, Governing council member, IBA along with Dr. Subhendu Dey, Program Director, IBA and all the faculty members also graced the event with their presence. The ceremony then begun with a welcome speech by Mr. Manish Jain followed by address from Dr. Sharma. Subsequently, Shri F C Kohli was introduced to the gathering, after which he enlightened the passing out batch with his experiences along the professional journey and what Indian system needs to do in current times and the changes required. He also talked about the expectations of the industry from current crop of managers.
Students graduated with flying colors and the pride was visible on their as well as their near & dear ones. Several students received various awards & Scholarships including Dr. Anil Agrawal's Memorial Award worth Rs. 51,000. All students were conferred their degree certificate by Shri F C Kohli with a ray of hope to see them at top levels in different capacities for the new world, that they were stepping into. As our slogan goes "Think Beyond.. Think IBA", its significance was well demonstrated by Batch 16-18. The time came eventually for the event to end by thanking all those who were present which was well presented by Dr. Subhendu Dey with a hope that the passing out batch will make their Alma Mater proud at all levels.