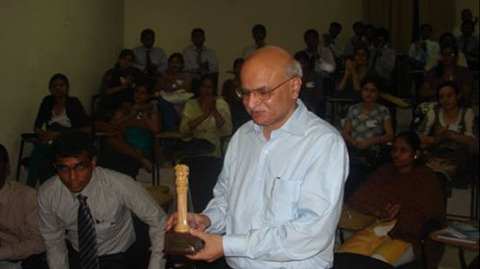 Date : 22nd June, 2012
Mr. Anand Talwai, Ex- CEO of WIPRO and Executive Director & Cofounder of Nextwealth.in shared his thoughts with the students of IBA regarding the Corporate and social values at Nextwealth.in.
He also took time to explain about CVP (Customer Value Proposition) to the students. He also detailed that how from a customer's point of view CVP becomes the biggest benefit/advantage in a product/service and at the same time in business terms it means the importance given to the pain point of customer by organization.
He emphasized students to make use of time and always keep on asking "why". As he believes in hard work, he justifies performance as when you neglect your interferences from the potential of work you have. He also explained the students how to present themselves in an interview and what a company requires to judge a job applicant. He also shared the experiences he had come across during the recruitment process and also shared the work procedure that the company follows to attain the growth.