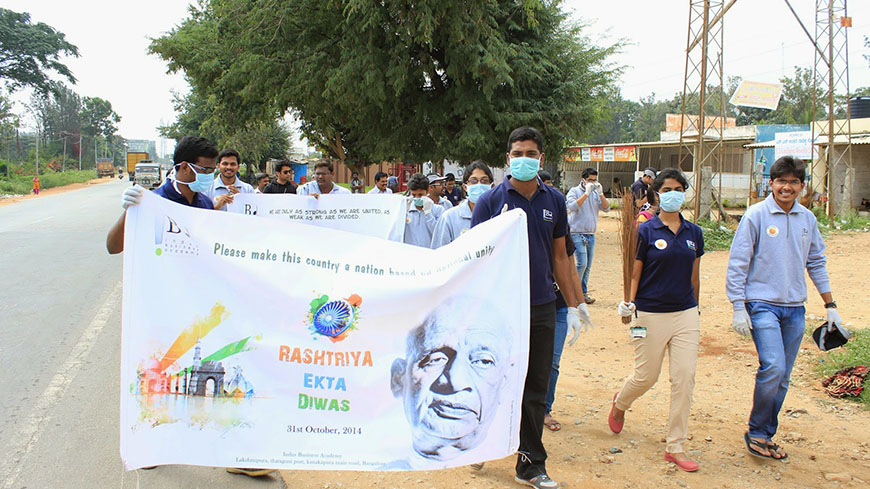 Date:31.10.14
On the 31st of October, 2014 the Birth Anniversary of "Iron Man of India" – Sardar Vallabha Bhai Patel was celebrated as the "Rashtriya Ekta Diwas" by Indus Business Academy, Bangalore as well.
It was a team work with the students as well as the Faculty & Staff playing their part in performing Street Plays/Flash Mobs at Adiga's Hotel Junction (near Raghuvanahalli), Gnana Sweekar School (near Talaghattapura) and next to IBA Main gate (near Lakshmipura) in the Morning period. Subsequently they formed a Human Chain from Shri. Shaneeshwara Temple to IBA Main Gate and launched a cleanliness Drive from Sri Shaneeshwara Temple to IBA Main Gate in line with the ideology of "Swachh Bharat Abhiyaan" (initiated by the Honourable Prime Minister of India Shri Narendra Modi) and thus ending the outbound programme for the day.
The inbound programme started post lunch and was initiated with Saraswati Vandana that filled the aura with the blessings of "Goddess of Knowledge". A very informative video about Sardar Vallabh Bhai Patel, arranged by the students was aired which mesmerized everyone. Subsequently there were panel talks from experts on the Theme "National Unity for Safety and Security and a Clean India- Prospects & Future Path for the Youth". The students then presented a Street play on the occasion that was inspired from the highlighted qualities of Sardar Vallabh Bhai Patel – Dedication & Commitment to work.
The programme came to an end with everyone taking the "Oath of Unity" and subsequent vote of thanks by the Student's Representative.