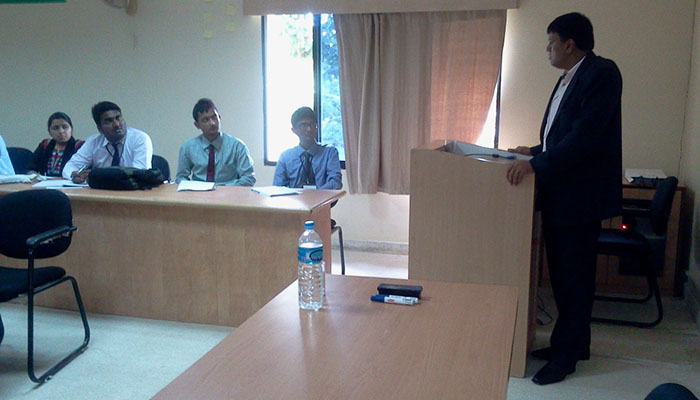 Date: 8th July 2014
Mr. B S Murthy – CEO at BSM Leadership Capital. He has 19 years of handful of experience in the field of Startup Product Engineering Specialists, Project Staffing, Talent Availability Research for IT, KPO, Strategic Consulting, Investment Banking, Private Equity, Life Sciences R & D, Infrastructure Engineering & Semiconductor Design. He addressed IBA Students about how to win big in 2016 – The art and science of positioning yourself.
Mr. Murthy opened his talk by introducing himself and about the Organization to the audience. His topic of discussion was about How to adopt and develop the skill set globally? And Mr. Murthy considers the current generation as AG and BG. AG means After Google and BG means Before Google.
Mr. Murthy covered various concepts of Skill set such as Integrity, Motivation, Competence, relevant education and experience. And gave example of VISA and Walmart.
Mr. Murthy shared the experience about the Skill Set, where people use different skill set in various situation. The most important skill set is CURIOSITY. The various countries like India, China and South Asia people are very interest to know "what new things are happening?" And second most important skill set is CULTURAL, In this case many company adopt the Open Cultural Skill Set. Companies like Cognizant, TCS, Wipro, HP etc.
He concluded his session by giving some tips on the people should focus on RESEARCH (What to do? And How to do?) And all students must have some area of interest during these 2 years of PG Program and gave the example of research on social media and consumer like web commerce / e-commerce and ends the session with a bag of learnings.