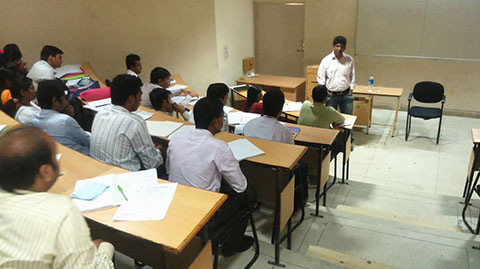 Date: 14th July 2014
Mr. Guru Prasanna,Director – Analytics at Flipkarthad an interactive session with the students of IBA with a talk on his 'Career Learnings '. Mr. Guru is an alumni of IIT, Kharagpur & MIT and has spent most of his professional life in Analytics and E-commerce.
The session was initiated with Mr. Guru taking the students down the roads of his career and elaborated simultaneously the importance of planning before taking decisions concerning career. He also stressed that it is never intelligent to work without multiple options. If one is focussed towards one career path, he should give his best efforts to achieve it but should be open to follow other related ones as well; there should always be a Plan B!
Subsequently Mr. Guru went on to elaborate regarding career choice; he suggested students to do things which they are naturally good at, which they love and urged them to maintain self-awareness. He advised students to keep close tabs with seniors as harnessing their choices can provide valuable insights for one's decision making. He also emphasized over building blocks for career; like experiences in life that might not necessarily be sweet, but will give lot of meaningful learning to shape our career path.
Towards the end Mr. Guru advised the students to never stop learning and started detailing over profile of people required in Analytics. He said that asking questions is always good but asking the right question is the most important tool for an Analytics person. The session came to an end with Mr. Guru urging the students to grab every opportunity that can connect them with industry.