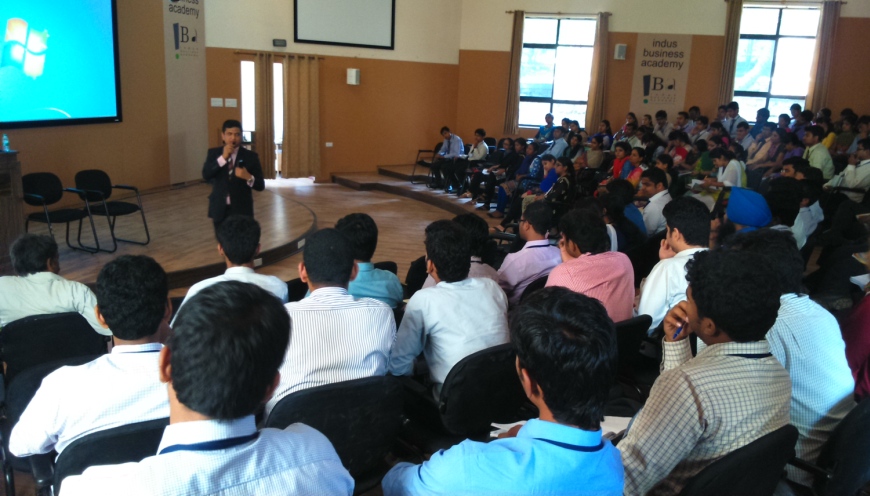 Date: 30th June 2015
Mr. Bhuban Joshi, Director – Human Resources at Hyatt Hotels Corporation India had a session with the students over 'Industry experience & Professional approach'.
Mr. Joshi started of the session with a brief introduction to his professional career in which he started with coaching; went on to work in music company; marketing coordination in media industry and finally the Hospitality industry. He expressed, how disbelieving it was for him when he was offered the position of Finance Manager but he could not accept it as he was not sure he will be able to manage; even though he was good at Accounts & Finance and used to coach people in that too.
He advised the students to be practical and try to learn how to practically implement theory. He gave the students his mantra to be a perfect leader – Learn, Serve, Care, Adapt and Achieve. 5 attributes which are even evaluated at his organization while considering people for leadership positions. Mr. Joshi also conveyed the students that technical skills matter less these days but soft skills like Team spirit, Communication skills, Attitude, etc. matter more; because a company can teach technical stuff, but not the rest.
He emphasized on the importance of personal grooming and explained how it creates an impression in minds of people which results in actions accordingly. Good personal grooming alleviates one's confidence which results in receiving respect, attention and admiration from people.
In response to a question by one of the students Mr. Joshi listed a few behavioural attributes of a good professional – Sensitivity to situations, no spreading of rumours, Punctuality and Dedication to work. But most importantly he stressed upon keeping a track of what is happening around in the world and that even doing a zillion number of courses cannot substitute that.
The program concluded with vote of thanks by Ms. Ankita Kumari; a student of PGDM 15-17 Batch; and memento presentation by Prof. Suresh Chandra.