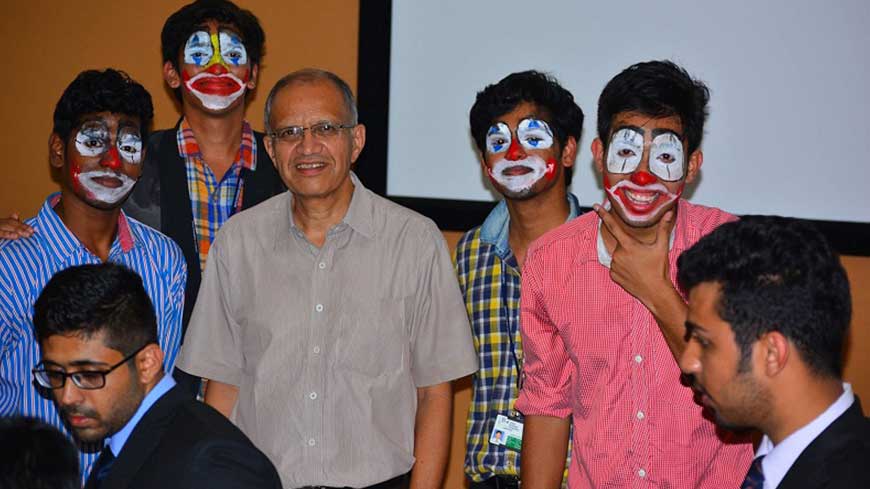 HOPE DAY
Date: 8th September 2016
Like every year Hope day was celebrated at IBA to remind us of the privilege we have been blessed with, by spending time with the less fortunate, yet, people full of life. It is to remind us that every being has a "Higher Order Purpose of Existence", without which, life truly is incomplete. The 16th Hope day celebration was delayed 8th September this year due to CIP evaluations around the original date. This time, we were graced with the presence of the kids from Samarthanam. An NGO that not only takes in underprivileged children, but also provides them with a holistic education so that they can support themselves and lead normal lives. It has more than 11 branches in India as well as USA.
The event started by greeting our guests with the recitation of the Saraswati Vandana. The presence of our faculty members inspired the zeal of participation in the students. Activities such as drawing competition, with gifts for the winners, was organized. The students dressed up as clowns for kids' enjoyment. There were entertaining song and dance performance, in which the kids also joined along.
There were refreshments and sweets for the children before they were taken around the campus to play. The volunteers were extremely dedicated and made sure that these activities were an enjoyable experience for all the kids. Mr Manish Jain (Founder & CEO – IBA Bangalore) also joined the gathering in the second half of the programme that had a surprise. The kids from Samarthanam had a few tunes and moves up their sleeves, as they performed a song and two dance pieces for us, which were amazing.
A sum of Rs. 2455 was handed over to the manager of Samarthanam by Mr. Manish Jain which was earned by selling the paper bags made by the kids in our campus. Adding to this, the generosity of various people led to the collection of Rs. 4375, which would further be donated to the less fortunate.
The occasion was all the more special since it was during Ganesh Chaturthi. Students got to spend extra time with the kids during the evening aarti. A separate prayer was also recited by them, which was wholeheartedly appreciated by one and all. A lot of pictures were clicked and a lot of memories were made. On this day, we were not people from different states or cultures who led different lives and spoke different languages. We were just people. Humans. Managers promoting humanity.