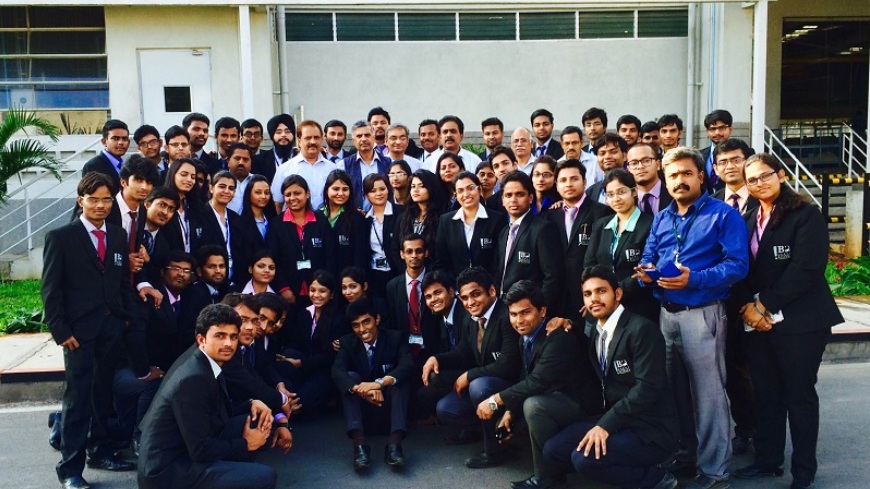 Date: 23rd December, 2015
VST Tillers Tractors Ltd., Hosur Plant
Prof. Muvva Butchi Babu arranged a visit for the students of 2015-17 batch to the Hosur plant of VST Tillers Tractors Ltd., Hosur Plant on 23rd December, 2015. V.S.T.Tillers Tractors Ltd was promoted in the year 1967 by the VST group of companies, a well-known century old business house in South India. The founder of the group was Sri V S Thiruvengadaswamy Mudaliar who started with humble beginnings under the VST & Sons banner in the year 1911. The group built its reputation through retailing of petroleum product & distribution of Automobiles in Karnataka and Tamil Nadu.
VST Tillers Tractors Ltd. was promoted by VST Motors, as a joint venture (and Technical collaboration) with Mitsubishi Heavy Industries Ltd., Japan. The company is now the largest manufacturer of Power Tillers in India. From the time of inception in 1967 by the Founder Managing Director, Sri V T Velu, the company has had a steady growth. Today the VST family holds 51% of the equity in the listed company that has recorded consistent growth and has given excellent returns to the shareholders. With the growth in business, the manufacturing facilities for Power tillers has been retained on the Whitefield Road in Bangalore, while that of Tractors has been shifted to Hosur in Tamil Nadu. This is keeping in mind the growing demand for compact tractor for small farmers in the country. The manufacturing of key components for the Engine for both Power Tiller and Tractor takes place in the Precision Components Division located in Mysore.
The visit gave the students a practical exposure into the best practices and methodologies in use. They came to know about organizational aspect of a manufacturing unit where the hierarchy model followed is a traditional one, and the sub-ordinates report to their respective officers. In the same aspect an employee friendly cafeteria scheme is followed by the company where the food is provided free of charge to all employees.
They also came to know that the MIS used at VST generates reports on material procurement for each batch, the time for assembling, the attendance of the workers, every stage of assembly line and testing of each tractor in ideal conditions (lab conditions). In pursuit of its goals the company follows a strict and highly effective material inventory management system where the materials, parts are stored according to their size, frequency of their use and their importance. The MIS reports like the consumption frequency of the materials, wastage, accuracy of the parts in a batch, comparing them with previous batches are highly observed. Company rejects the parts which do not meet the accurate specifications as explained by their company visit guide.