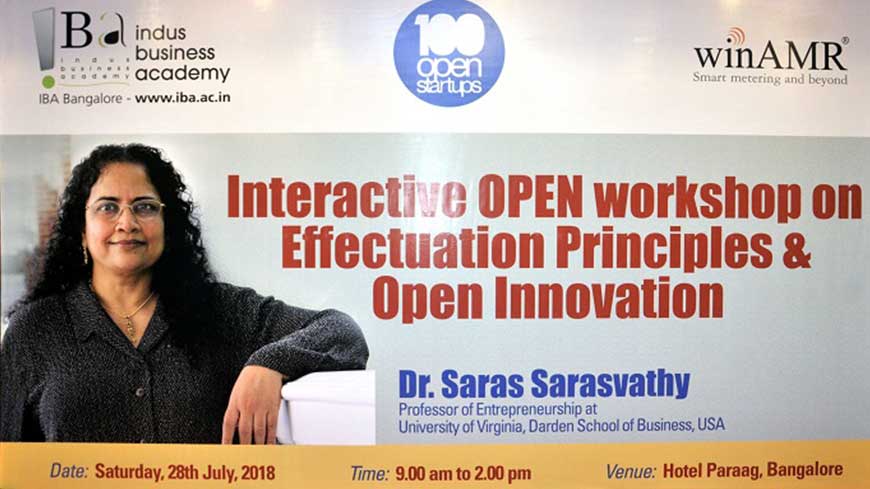 Interactive OPEN Workshop on Effectuation Principles & Open Innovation
Organised by
Indus Business Academy, Bangalore
In association with
100 Open Startups and winAMR
IBA Bangalore in association with 100 Open Startups & winAMR organized an "Interactive OPEN Workshop on Effectuation Principles & Open Innovation" at Hotel Paraag, Bangalore on 28th July 2018. The workshop was an interactive session with Dr. Saras Sarasvathy and Mr. Varadarajan Krish that touched upon topics like:
Success stories, emerging trends in Effectuation & Entrepreneurial mind-set
Effectuation principles: Framework, tools & their application
Open Innovation (IO): Relevance in Globalised Business environment
Entrepreneurial thinking & innovative mind-set: Tools to apply
About Dr. Saras Sarasvathy
Dr. Sarasvathy is a member of the Strategy, Entrepreneurship and Ethics area. In addition to MBA and doctoral courses in entrepreneurship at Darden, she teaches in doctoral programs in Europe, Asia, Latin America and Africa. In 2007, she was named one of the top 18 entrepreneurship professors by Fortune Small Business magazine. In 2013, Babson College awarded her an honorary doctorate for the impact of her work on entrepreneurship education. Most recently, in recognition of her active engagement with students, Dr. Sarasvathy became the 2015 Mead-Colley Honored Faculty from UVA.
About Mr. Varadarajan Krish
Mr. Varadarajan Krishna (Varad) is the Managing Director, Induct India. Induct AS is Norway based Innovation Management Company specializing in building, managing and sustaining high end Innovation communities worldwide. Induct is a global leader in connected Healthcare Innovation Communities. Induct listed on the Oslo Bors in Jan 2016.