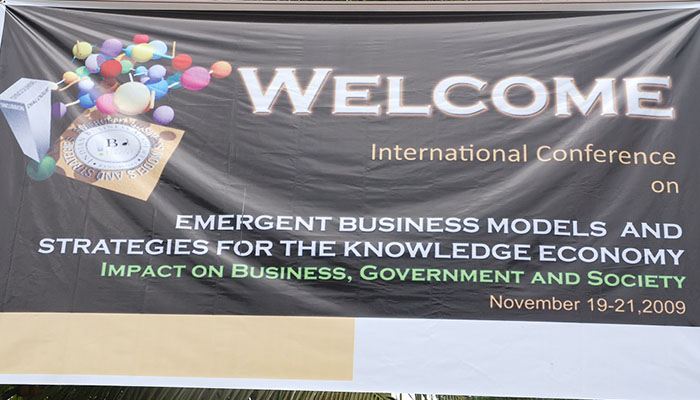 International Conference:
Emergent Business Models and Strategies for the Knowledge Economy
The morning was crisp and the sun shone beautifully. The birds chirped expectantly awaiting the arrival of the guests. Everyone knew that it was a special day, for it was the day that International Conference commenced in our college. What an event it was. Guests from all over the world came to barter the knowledgeable information. The leitmotif of the International Conference was "Emergent Business Models and Strategies for the Knowledge Economy". This three day conference was kick started by the 'Tree Plantation', which is one of the main customs abided by Indian Business Academy. This was followed by the 'Inauguration' during which the 'Invocation' was done by our Chairman- Shri. B.M.L. Jain; Dean- Dr. Subhash Sharma; Chief Guest- Mr. M.S. Thimmappa; and Guest of Honour- Mr. R.S. Deshpande. Dr. Sharma also announced the launch of his website www.shunyacreations.com The inauguration ceremony marked the commencement of the International Conference.
This conference gave an opportunity to create a platform to debate and discuss the questions by bringing together scholars, students, activists and corporate to a common platform so as to seek answers for the emergent challenges posed before India's upward thrust in the information era. Every day the sessions of paper presentation by the speakers were preceded by the 'Plenary Sessions'.
The first day topic was 'Emergent Business Models and Strategies'. The day saw the bringing together of many eminent speakers from all corners of the world. Complementing the day, we had a 'Cultural Program' by the students of 08-10 and 09-11. Entertaining programs like performances by the in-house band, the Old Monks and student band of 0911; and the mesmerizing dances was organized for the guests.
The second day began with the Plenary Session on 'Leadership and Innovation'. Students paper presentation sessions were also held on the same day wherein young, dynamic students from diverse backgrounds came to present their papers and showcased their expertise.
Day 3 began by a Plenary Session on 'Internet Based Business Models'. This day marked the conclusion of the International Conference, ended with the Valedictory Session during which the prizes were distributed for the Best Research Papers. Amongst the student research papers, our very own seniors, Sneha Sahal and Nilay Shrivastava won the 2nd Prize. Their research was based on "Fiscal Policies of India: Lessons and Priorities".
The three days of the International Conference were brought to an end with the taste of success, positivity and hope that the February based International Conference would be a greater triumph.