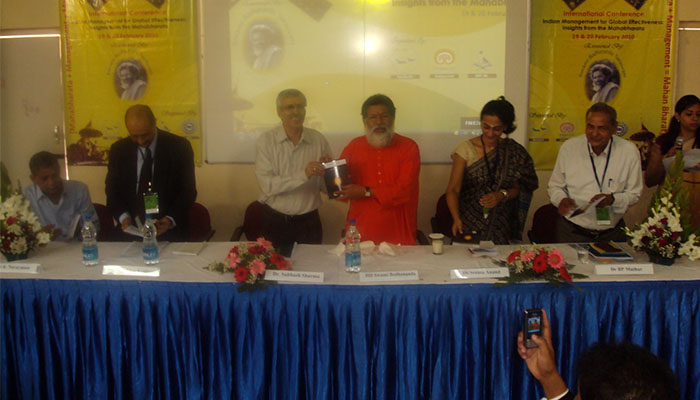 India is emerging as a global player in the socio-political, cultural and business world. Many Fortune 500 companies are establishing their business on Indian soil. With the Indian mind- set being spiritual and knowledge seeking, our business leaders have to constantly balance the conflicting demands of human values and modern management requirements. Mahabharata, India's greatest Epic, is replete with stories of leaders facing challenging dilemmas, which require difficult and high-stakes decisions from among a variety of choices. This seminar is in the direction with effort to integrate modern management ideas with carefully selected case studies from the Mahabharata, to provide a wealth of insights and practical solutions to managers of the 21st century.
This was the main theme of the conference held at Indian Business Academy Bengaluru on 19th and 20th February.
Indian Management for Global Effectiveness: Insights from Mahabharata
(Management + Mahabharata = Mahan Bharat)
With this concept we started our international conference. We received papers from many experienced people. This conference is organized by very experienced people like Subhash Sharma, Dean Indian business Academy.
The speakers are high intellectuals and well versed persons. Our main speakers included Swami Bodhanand Saraswathi, spiritual director and founder, The sambodh society Inc,Sri R Narayanan VP TCS(retd).Prof Keyur Thakur, professor IIM(Indore)
There were many other intellectuals who enlightened the crowed with their mesmerizing paper presentations. One of the speakers said that Mahabharata is the best book to read for better understanding of management. No other book can compensate Mahabharata in this respect. They
The speakers talked about leadership, motivation, and improvement of skill sets can be imparted by reading Mahabharata. They also mentioned that, every time we read it, we can learn new skills.
They also talked about team work and group dynamics and how they can relate it to Mahabharata. Winning strategy of Mahabharata was one of the important topics discussed. How to turn weakness into strength, how to make allied forces, how to share responsibilities, how team work succeeds when individual efforts fail are very well discussed by taking stories in Mahabharata as examples.
Along with the paper presentation, on the first day of conference Mrs Neelima Bhat with her group performed dance for about 30 minutes which is about feminism and ability to use feminine brain. That left entire crowd speech less. The dance performance was really awesome which included surya namaskara and Chandra namaskara too.
All and all the conference was successfully held and knowledge driven sessions happened.