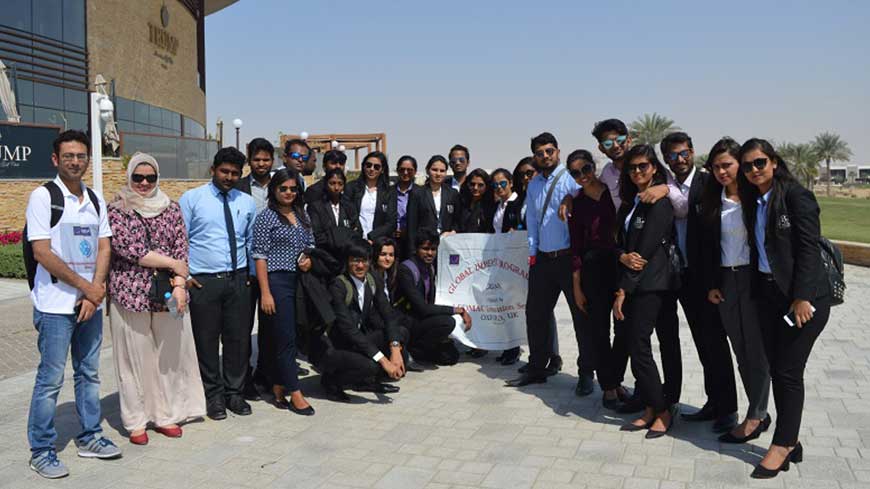 International Study Tour to Dubai
Date: 26th March 2018 to 31st March 2018
Students of Batch 16-18 along with Prof. Narendra Babu, underwent a weeklong International Study Tour or the Overseas Business Study Mission (OBSM) starting from 26th March 2018 where they had a great opportunity to visit some of the best and iconic companies established in Dubai.
The first day was the iconic Dubai Silicon Oasis where they had the project briefing for the whole week. They also visited companies in Real Estate, Hardware, Education sector, Beverage where they got the opportunity to see the production capacities of the company, their functioning style the way they handle critical situations and many more things that actually gave them a better insight in the respective industries. The different ways in which they handle some of the issues like labour relations, accidents, scarce resources etc. at the organizations.
Along with this students also conducted market survey for the Bingatti Beverages' yet to be launched drink where they performed a customer survey and a brief competitor analysis.
Next set of Survey was at the Historic Dubai Mall where the 25 students were divided in group of 5 and each was given a luxury brand and were asked to observe the behaviour of the customers and the sales persons working at the stores.
At last they were asked to give presentation for the survey which they had conducted.
Some of the other companies that were visited included
Damac 
Herz
Bingatti Constructions
American University Of Sharjah
Dubai Tec 
Each of the companies listed were unique in their spheres and the best part was that the representatives of the companies gave them better insights into their respective business, international trade terms and regulations.
The students had the pleasure to witness Guest lecture from one of the very few women actuarians from India who was the Actuarian for MetLife for the entire Gulf Region. Apart from this Mr Shahab Hasmi, Visa International and Mr Nafees Farooqi, Schneider Electric also enlightened the students with Guest lectures.
Along with industry visits the trip had also leisure activities planned for students with visit to some of the best and the iconic places in Dubai such as Burj Dubai, Palm Island, Dubai Mall Desert Safari.
Overall it was a great learning experience with happiness, excitement and lots of enjoyment.