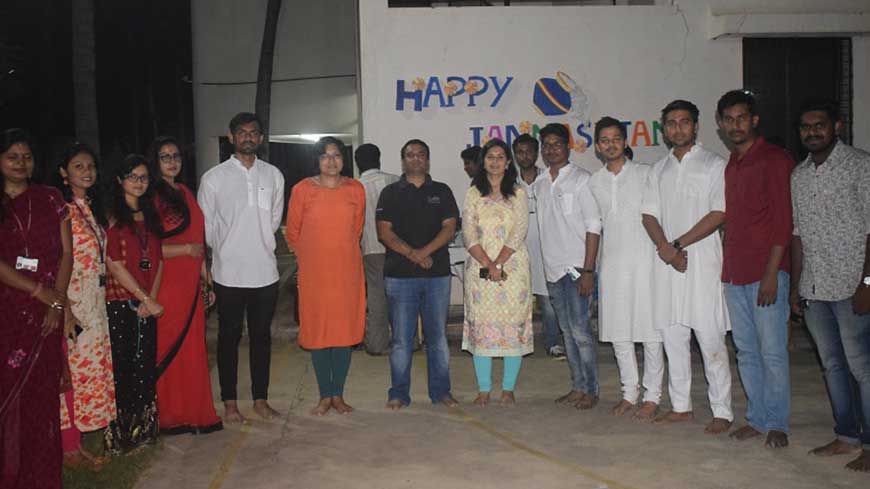 JANMASHTAMI 2018
Date: 3rd September 2018
Janmashtami, a festival celebrating the birth of Lord Krishna, the eighth avatar of Lord Vishnu. On this auspicious day, the occasion is marked by placing a statue of the deity in a cradle after giving it a bath with milk, ghee, honey, gangajal and tulsi leaves.
The program started by 9:45 pm with address to the audience that gathered in basketball court for celebrating Janmashtami. At 10:00 pm a dance performance was done by 2018-20 batch. After that each Radha-Krishna couple from Batch 2018-20 introduced themselves followed by a game. Then Lord Krishna's story was very soulfully narrated by Sachin and Neha from 2018-20 batch, after which second game for the couples (Value Proposition) was conducted. At 10:45 pm third game, dance by the Couples, was conducted.
Naga Harshitha and Vinay won the title of Radha-Krishna Couple of 2018. To add more fun for the day, Tug of War was conducted between seniors and juniors, in which 11 Members from each team participated.
At last Dahi handi was broken by Vinay under the presence of CEO, Mr. Manish Jain, Prof. Vaishali mam and Bhavya mam. As the time approached midnight, the preparation started for Puja in order to worship Lord Krishna along with the bhajans. Sweets and Panchamrit in form of Prasad were distributed to all the students, members of the faculty & staff present there.