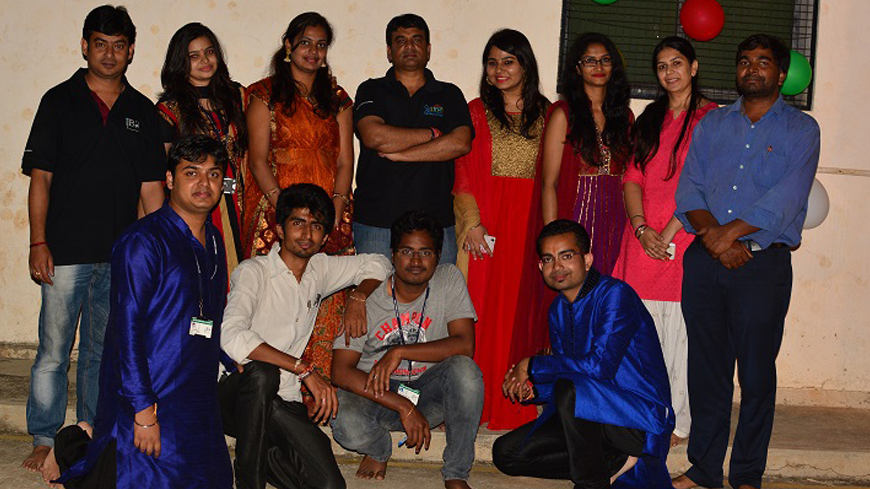 Date: 25th August 2016
Janmasthami is a festival which is an annual celebration of the birth of the Hindu deity Krishna, the eighth avatar of lord Vishnu. On this auspicious day swings and cradles are decorated, rangolis are made and diyas are lightened all over. Events like dance performances and Dahi-Handi competitions are organised to show the mischievous activities which Lord Krishna used to perform along with his friends during his childhood days.
Like every year this year also, the whole IBA family came together to celebrate the birth of Lord Krishna with high energy and spirit. The students put their best effort in decorating the Basket-ball court with ribbons, balloons and rangolis to make it look traditional. A beautiful cradle was made for Lord Krishna's idol by the students themselves. As per the tradition everyone was in ethnic wear for the event.
The event started at 9 pm with a welcome speech for CEO, Mr. Manish Jain and other Faculty and Staff members. The event started off with dance performances by the students and was followed by a competition to identify the best couple as Radha-Krishna pair. Subsequently, the traditional and exciting Dahi-Handi competition between different groups of students also took place.
Finally, as the time drew nearer to midnight; indicated as the time of birth of Lord Krishna; preparations started to worship and offer prayers to the Lord. Sweets offered as Prasad to the Lord were distributed to everyone present, as the event came to an end.