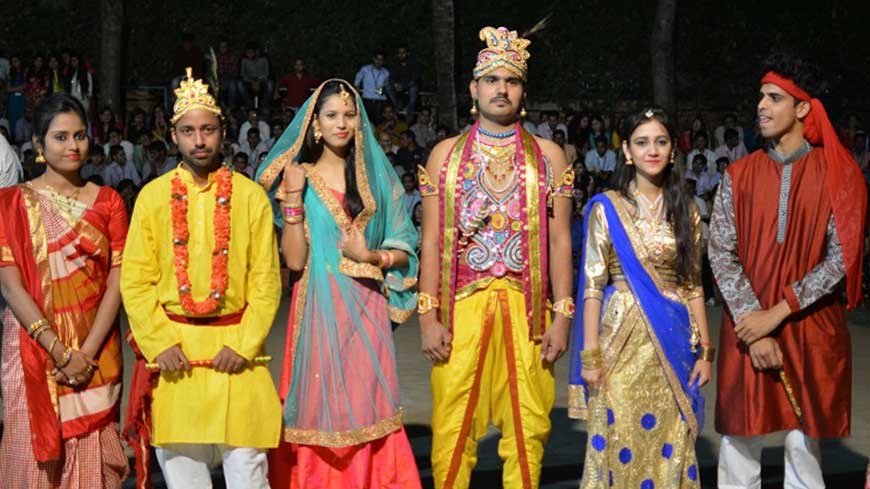 Date: 14th August 2017,
Janmashtami, a festival celebrating the birth of Lord Krishna, the eighth avatar of the Lord Vishnu. On this auspicious day, the occasion is marked by placing a statue of the deity in the cradle after bathing it with milk, ghee, honey, gangajal and tulsi leaves. The panchamrit is then distributed as Prasad to the devotees. Cradles and Rangolis are beautifully decorated with flowers and diyas. To showcase the mischievous act of Lord Krishna during his childhood, the dance performances showcasing the Raas Leela are organised.
This year the whole IBA family came forward to celebrate Janmashtami with high enthusiasm and positive spirit. The basketball ground was decorated with Rangolis and Diyas, a cradle was made and decorated by the students along with Prasad. The event started in the night with a Welcome Speech for CEO, Mr. Manish Jain and members of the Faculty & staff. The celebration started with Radha Krishna Contest, with subsequent rounds to decide the best Radha Krishna couple for the night. The dance performance was the following act to exhibit the various mischievous activities of Lord Krishna. As the time approached midnight, the preparation started for Puja in order to worship Lord Krishna along with the bhajans. Sweets and Panchamrit in form of Prasad were distributed to all the students, members of the faculty & staff present there. As the night came to an end a Tug of war competition was organised between junior and senior batch students.