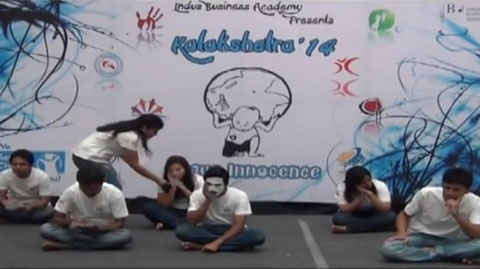 As it is done each year, the first year students, under the aegis of the course in Project Management, undertake a cultural project christened Kalakshetra that requires a lot of intra-group coordination and conflict management, inter-group co-ordination and large scale planning. This teaches them valuable life lessons. Furthermore, they perform in front of a live audience and do things that they have never done before, which teaches them to face their fears and transcend them.
In Kalakshetra 2014, the stakes were higher for multiple reasons:
They had to perform in Mantri Mall for the entire day. While they had to hold performances along with crowd interaction for the entire day, it was to happen without any supervision. This was a tremendous responsibility that they had undertaken and they did this on their own.
They had to create a dance drama of 5 minutes on various aspects of child safety. The topics were:

Handling a Child with ADHD
Child Witchcraft
Child neglect by self-centred parents
Child trafficking and slavery
Gender bias in bring up children
Street Children
Child prostitution
Child Marriage

The dance sequences, songs, script and music were composed by them and not copied from anywhere.
All music was created using vocal cords or clapping, and they were not permitted to use any musical instruments
Most students had never sung or danced in a disciplined way, and they were pushing the envelope of their capabilities, doing things they had never thought were possible by them. This allows them to have confidence in their ability to handle new things in the future.
The students arranged and funded most of the resource allocation by themselves, with IBA helping in the PR activity.
The performances were recorded, edited and uploaded on Youtube.
Probably it is only at IBA where organisation of plays is used as a mode of teaching Project Management and Team Building and quite justifiably, organising such events encourages the students to learn management of themselves, their groups and large scale projects.