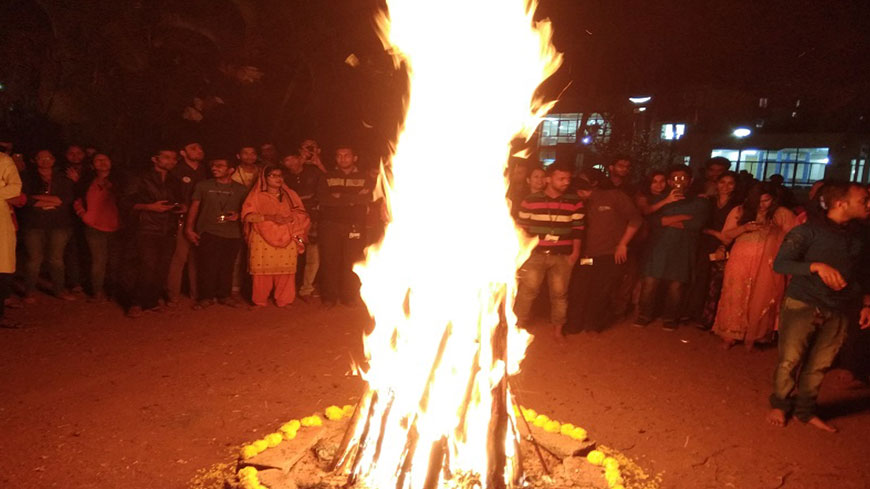 Lohri & Makar Sankranti Celebrations
Makar Sankranti is one of the few ancient Indian festivals that has been observed according to solar cycles, while most festivals are set by the lunar cycle of the Hindu calendar. Being a festival that celebrates the solar cycle, it almost always falls on the same Gregorian date every year (January 14), except in rare years when the date shifts by a day for that year.  The festivities associated with Makar Sankranti are known by various names such as Lohri by north Indian Hindus and Sikhs, Makara Sankranti (Pedda Pandaga) in Karnataka and Andhra Pradesh, Sukarat in central India, Magh Bihu by Assamese, and Pongal by Tamils.
As with IBA's tradition of celebrating every Indian festival, 'Lohri' and Makar Sankranti were also celebrated with a lot of exuberance on the 13th and 14th of January, 2018. Lohri is the harvest festival of Punjab, famously known as the bread-Lohri festival, prompts people to be thankful for god's provisions and to celebrate his creations, its focus on farming basket state of India. This harvest festival is celebrated to mark both celebration and sharing. On 13th night the celebration started by gathering around bonfire, offering puffed rice, and popcorn to the flame by chanting of mantras added with sky lanterns released by the students into the night sky with hopes of a prosperous year. And the night ended with gala time as the students danced to the Punjabi beats.
At IBA, celebrating every festival is a ritualistic delight as students came together for Invitation, Decoration, Rangoli, as well as cooking and serving food for 'Makar Sankranti' the next day.
The Mess served special traditional dishes of Andhra Pradesh and Punjab. Food was served during lunch and dinner with variety of dishes like Pea's parantha, Curd chillies, Masoor daal, Malai kheer, Rasmalai and lot more. When you are surrounded with such delicacies, isn't it hard to choose? The tasty food doubled everyone's happiness leading to another attraction of the day – Kite flying! 'Makar Sankranti' or 'Uttarayan' onwards, the sun starts to travel northwards marking the decline of winter. The days become longer, the skies clearer and the breeze cooler. Students gathered on rooftops and flew colourful kites with equal gusto, where a sky touching fun with kite-flying filled everyone with joy, thrill and happiness.