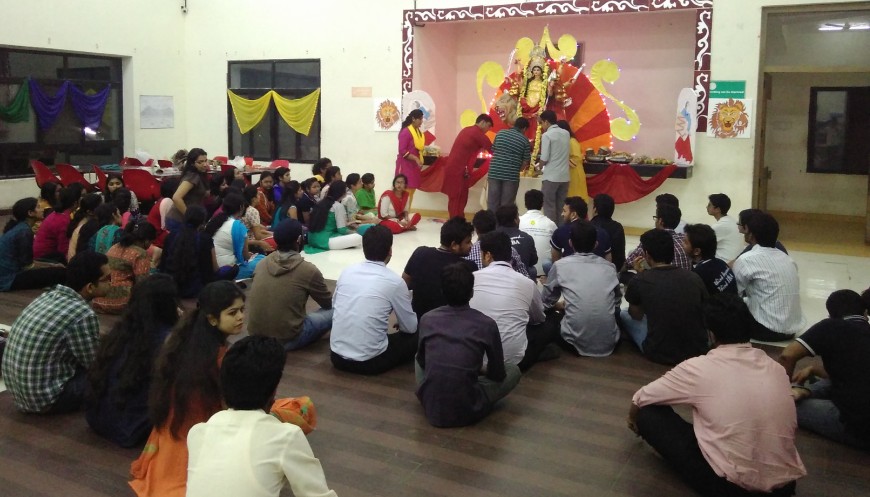 Navaratri is a festival dedicated to the worship of the Hindu deity Durga. Navaratri is an important festival and is celebrated all over India and Nepal. We, in IBA, celebrated Navratri in a gorgeous way from Shashti to Dussehra.
On Shashti Mr. Manish Jain, Founder & CEO – IBA Bangalore, inaugurated the celebration by performing the puja and aarti. After puja we distributed the Prasad. Thereafter, every day, once in the morning and once in the evening puja was performed by students as well as the whole IBA fraternity. The students' committee YMCC sponsored Prasad for the daily puja.
Students even performed the Sandhi Puja on the day of Ashtami. The Sandhi puja lasts from the last 24 minutes of Ashtami till the first 24 minutes of Navami. As is traditionally done in Sandhi puja, 108 diyas were lit to remove all the bad power. On Navami, the students performed Dandiya and Garba in front of the deity with great fervour.
On the tenth day (Dashami) IBA celebrated Dussehra. Dussehra, another term for Vijayadashami, derived from the Sanskrit Dashahara (meaning "remover of bad fate"), is among the most important festivals celebrated in India. Our Indian Mythology says that at this day Shri Ram Chandra killed Ravan and set his wife Sita free from Lanka. The celebration of Ravan Dahan was made possible by making a model of Ravan to which Mr. Manish Jain hit a fire lit arrow to signify destruction of evil around us.
The 5-day long celebration came to an end by the visarjan of the Goddess Durga and thereafter by distributing sweets among each other. This festival shall surely remain forever etched in memories of all.