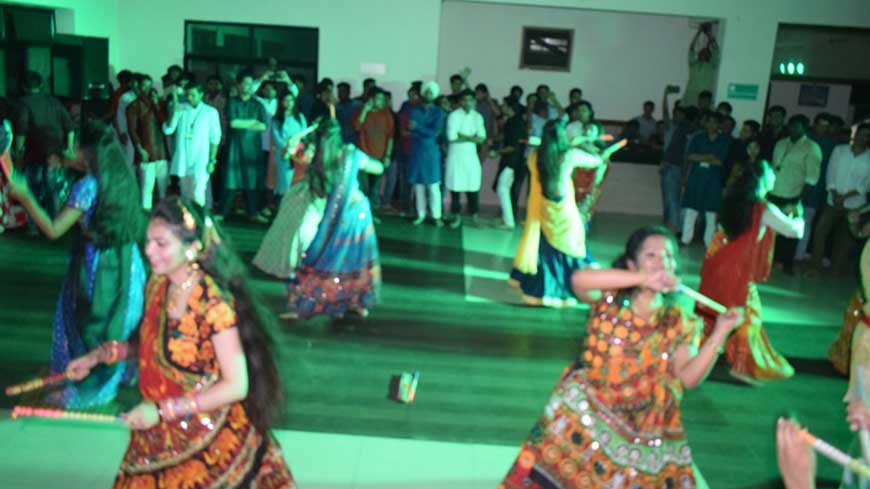 Navratri & Dussehra
15th to 19th October 2018
From the auspicious day of Maha Saptami IBA was fortunate to get the blessings of Maa Durga, and celebrate the festival of Navaratri. On this occasion, IBA organized Navratri Celebration from 15th to 19th of October 2018 which was coordinated by YMCC. Daily in the Morning at 8.00 A.M. and Evening 8.00 P.M. there was aarti conducted where students came regularly to worship and seek the blessings of Maa Durga. The event was well attended by all the enthusiastic students, faculty and staff members.
There was even special Garba night organised in Santripti where the students performed Garba dance on traditional as well as Bollywood songs. Everyone celebrated the day with joy and cheer. It was a colourful event with teachers joining the students enthusiastically in their dance. The positivity and energy exuberating out of the colourful costumes combined with enthusiasm of dancing to the Dandia folk songs made the entire day extremely successful and fruitful.
Early morning on 19th of October after following all the rituals students gathered around for the immersion of the idol of Maa Durga and seek the blessing.
The festive environment came to an end on the same day after the program of Ravan Dahan where various faculty members and students gathered to watch the delight of the festival.