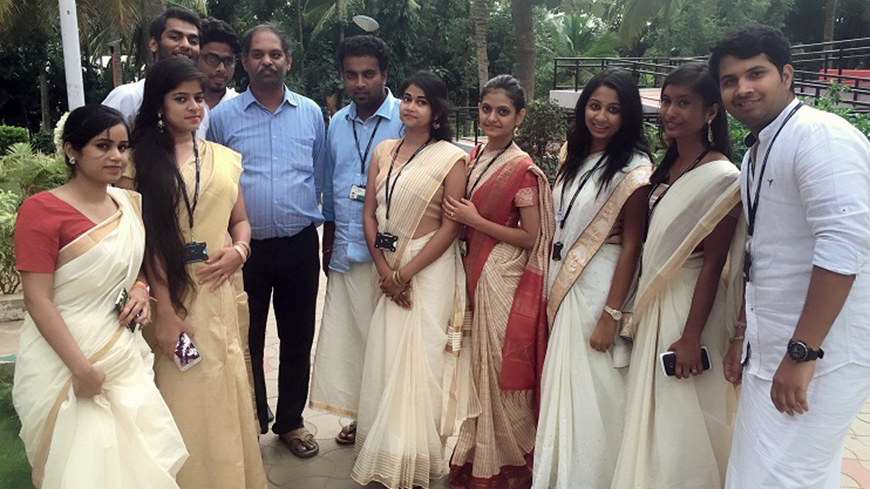 Date: 14th September 2016
Onam is the biggest and the most important festival of the state of Kerala. According to a popular legend, the festival is celebrated to welcome King Mahabali, whose spirit is said to visit Kerala at the time of Onam. It is celebrated in the beginning of the month of Chingam, the first month of Malayalam Calendar (Kollavarsham).
Like the previous years, students of both the batches of IBA came together to celebrate Onam with excitement and high energy. Preparations started two-three days in advance, for which students showed their initiative and interest in making the festival a grand success. A group of students created Pookalam i.e. rangolis made with flowers near mess building, admin block and classroom block to give entire IBA a colourful look.
On the other hand, the procurement team did a lot of hard-work starting very early in the morning to bring fresh flowers, vegetables and other necessary arrangements for events of the day. Another group of students showed their interest in preparing Keralite meals, which was the star attraction of the festival. There was a "Mahabali", the King for the day, who visited all the corners of IBA and gave blessings to everyone. It was lot of fun and enjoyment at IBA when everyone came in traditional and ethnic clothes (from students to all the Faculty & Staff) as well as participated in various games that were conducted later in the evening.
It was a great sight, because even though at IBA there is a lot of cultural diversity, but when it comes to celebrating festivals, all come together with one heart, one soul to make it a grand celebration for the mini-Indiapura.