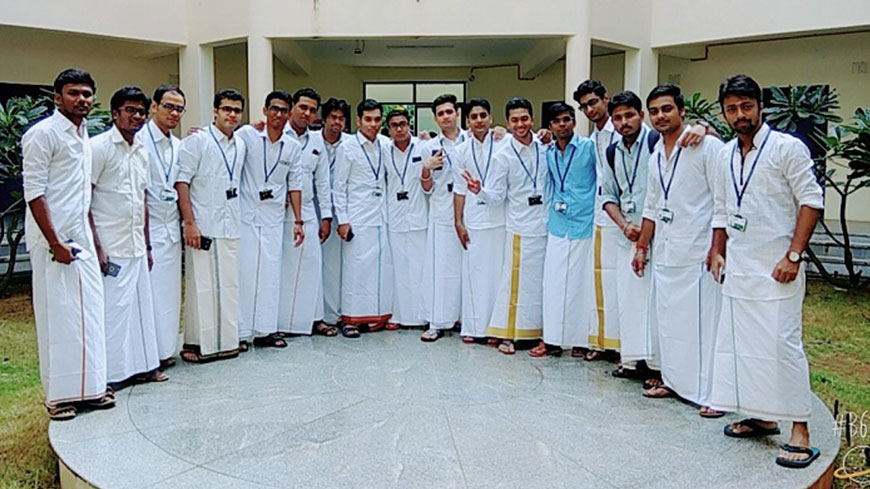 Onam Celebrations – 4th September, 2017
Onam is the most popular festival in the state of Kerala. This ancient festival has been celebrated since ages in the loving memory of King Mhabali. King Mahabali is known for his generosity and bringing prosperity. It is believed that King Mhabali comes on this day to bless people with happiness and prosperity. The day is also a harvest festival of Kerala that generally falls in the month of August or September.
At IBA, celebrating Onam is a ritualistic delight as students come together for Invitaition, Decoration, Pookalam (Rangoli), Cooking as well as Serving. Two days in advance everything was planned by students and work was assigned to groups among them. The night before Onam the rangoli team designed and the cooking team started their work in the kitchen. Invitation team worked well on inviting everyone in the IBA family for celebrations by means of eco-friendly invitation cards for everyone. The whole campus was decorated well with Kuruthola. The whole night members of the cooking team worked hard in preparation of Onam sadya.
The main attraction of the day was the King Mahabali. One of students was chosen to be dressed like King Mahabali and walk around the campus blessing everyone. Food was served during lunch in banana leaves with varieties of Kerala dishes like Unniappam, Banana chips, Pachadi, Sambar, Rasam, Moru, etc. It was a memorable experience for all as they savoured the delicious food along with the day's events. All the students wore traditional Kerala style dress, Dhothis by men and Sarees by women.
It was an amazing experience for all the Keralites in the campus who celebrated a homely Onam away from home!
May the celebration be an unforgettable one for the rest of their lives.