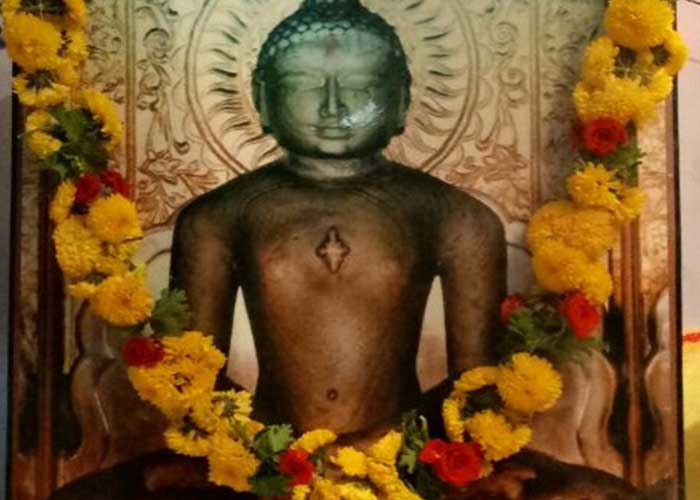 PARYUSHAN PARV
Date: 25th August 2017
Paryushan parv is celebrated by the Jain community for self-purification and upliftment. This means, to adhere to the ten universal virtues in practical life that leads us on the right path, far from the mad strife for material prosperity which ultimately leads us to our destination.
Followers celebrate this parv for ten days from Bhadrapada Shukla Panchami to Anant Chaturdashi, Jains observe fast in various forms and give alms. Each day of the parv has its own importance.
This holy festival was celebrated at IBA campus in the presence of all students, faculty members and staff. The program was started by offering prayers to lord "Mahaveer" followed by the most powerful and significant mantra "Namokar mantra" followed by its explanation by one of the students. Also the meaning and importance of the following ten dharmas was explained.
Uttam Kshama Dharma (Supreme Forgiveness): To observe tolerance whole heartedly, shunning anger.
Uttam Mardave Dharma (Tenderness or Humility): To observe the virtue of humility subduing vanity and passions.
Uttam Aarjava Dharma (Straight Forwadness or Honesty): To practice a deceit free conduct in life by vanquishing the passion of deception.
Uttam Shauch Dharma (Contentment or Purity): To keep the body, mind and speech pure by discarding greed.
Uttam Satya Dharma (Truthfulness): To speak affectionate and just words with a holy intention causing no injury to any living being.
Uttam Sanyam Dharma (Self- Restraint): To defend all living beings with utmost power in a cosmopolitan spirit abstaining from all the pleasures provided by five senses.
Uttam Tap Dharma (Penance): To practice austerities putting a check on all worldly allurements.
Uttam Tyag Dharma (Renunciation): To give fourfold charities-food, fearlessness, medicine, distribution of Holy Scriptures.
Uttam Akinchan Dharma (Non- Attatcment): To enhance faith in real self as against non-self.
Uttam Brahmachary Dharma (Chastity or Celibacy): To observe the great vow of celibacy, to discard the carnal desires, vulgar fashions, child and old-age marriages, dowry dominated.