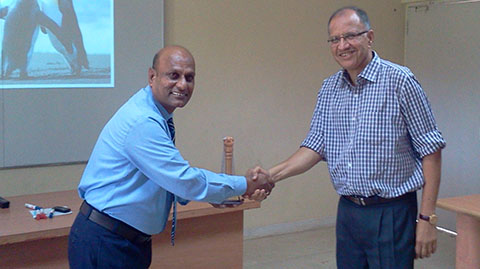 Date: 3rd July 2014
Mr. S Prasada Rao – Corporate Trainer in HR & NLP at People Development Consultant. He has 35 years of handful of experience in the field of National and Multi-National Companies. He addressed IBA Students about Professional Education for Corporate Excellence.
He opened his talk by introducing himself to the audience. His topic of discussion was Professional Education for Corporate Excellence.
Mr. Rao deeply explained that the education is the most prominent concept in the life. Observing the obscureness among the students; he took to start with a Classroom Activity like Interpersonal Relation – Bridging Game, Memory Game and Self Esteemed. And also he gave the example of Swami Vivekananda "Education is Manifestation for perfection"
He covered various aspects of a Management Program such as Corporate Excellence, Time Management Techniques, 5M's, LPG Concept etc.
He concluded his session by giving some tips on Qualities to Possess / Equip with such as Meritorious Academic Excellence, Career Aspirations, Personal Talent and Skill Sets, Professional Skills, Business Skills, Corporate Culture / Corporate Etiquette. Example of Arjuna in Mahabharata ends the session with a bag of learnings.