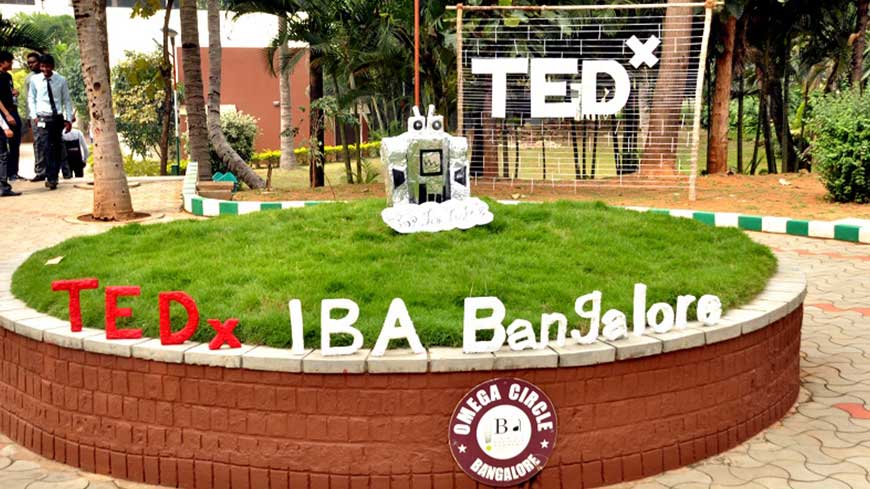 Theme: For the future
Date: 13th December, 2017
Time: 11 AM to 7 PM
Venue: Indus Business Academy, Bangalore
In the spirit of ideas worth spreading, TEDx is a program of local, self-organized events that bring people together to share a TED like experience. TEDxIBABangalore was one of its kind event to be organized by Indus Business Academy. The event was organized on December 13, 2017 where eminent speakers from diverse fields participated.
The theme for this event was 'For the future'. It implies the sharing of ideas that will help shape our future. In our quest for advancement we have come a long way far from laying the foundation of a better future. So what needs to be done and what can be done that is sustainable, responsible and inspires a brighter future?
The event witnessed the presence of eminent speakers such as:
Mohammed Shammas Oliyath – Software professional and Co-founder of Check4spam (Social Media Hoax Slayer)
Sripriya Venkiteswaran – Nutrition advisor at MonkeyBox (A startup that provides nutritious and tasty school meal boxes for children)
Apoorva B V – Honeybee keeper and Director of Honey Day Bee Farms (A company providing all beekeeping equipment along with honey production, packing & marketing)
Dilip Jain – Founding member of Himalayan Institute of Alternatives, Ladakh and close associate of Mr. Sonam Wangchuk
Patruni Chidnanda Sastry – Analyst and Classical dancer (An advocate of Data visualization by means of Dance)
Harit Soni – Director of Ecolibrium Energy (A pioneer in the field of improving Energy efficiency in Industries using Big Data Analytics)
Subhashish Panigrahi – Founder of OpenSpeaks (A platform for digital documentation of marginalized languages)
Natasha Singh – New Media artist and Co-founder of Timeblur (A digital experience studio)
Preethi Srinivasan – A quadriplegic and Founder of Soulfree (An NGO working to spread awareness about spinal injuries and reintegrate those severely affected by it)
Sudhanshu Kaushik – Founder of Young India Foundation (A consulting & advocacy group working to align India's policy towards sustaining its young demographic)
The program started at 11AM with anchoring done by Manu Sharma and Shreya Mazumder, batch 2016-18, followed with the opening speech by Dr. Subhash Sharma, Director – IBA Bangalore. The opening speaker for the day was Mr. Shammas who talked about the menace of Fake News and its impact. The next speaker was Dr. Sripriya, followed by Mr. Apoorva and then Mr. Dilip. In betwenn a couple of TED talks were also shown in compliance to the TEDx norms.
Around 1:30PM Lunch break was announced along with which tree plantation by the speakers also took place.
Post lunch, the talks session was opened by Mr. Patruni, followed by Mr. Harit, Mr. Subhashish, Ms. Natasha, Ms. Preethi and Mr. Sudhanshu. After the talks ended, a brief vote of thanks was given by Ms. Richa & the closing of the ceremony was done by Mr. Manish Jain, CEO – IBA Bangalore who very openly shared his experience of TEDx & the consequent preparations.
The entire team of TEDx IBA Bangalore was also called on stage for the recognition. This was followed by a brief mixing up of the audience with the speakers & photography sessions. The talks witnessed a variety of people & were heterogeneous in nature. The event saw participation from corporate houses as well as students from different colleges as well as IBA, faculty & staff members of IBA, people accompanying the speakers themselves & also people from abroad.