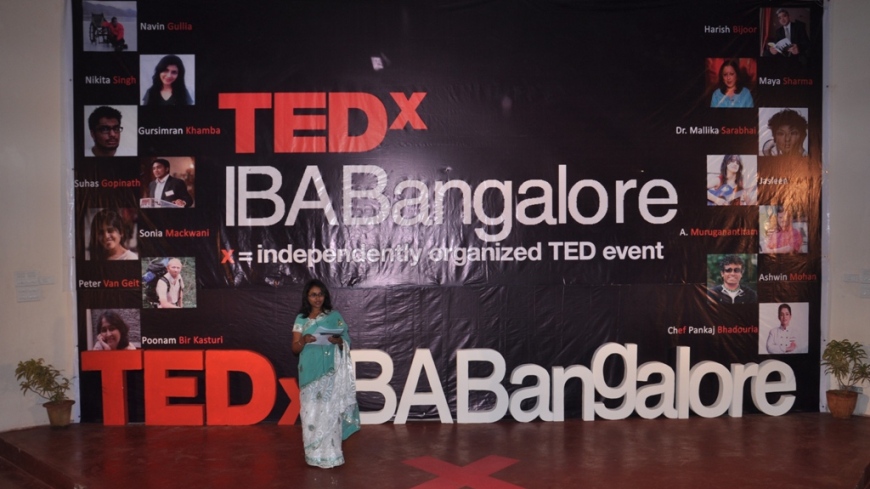 Theme: Speaking the Unspoken
Date: 23rd February, 2013
Time: 10 AM to 6 PM
Venue: Indus Business Academy, Bangalore
In the spirit of ideas worth spreading, TEDx is a program of local, self-organized events that bring people together to share a TED like experience. TEDxIBABangalore was the first of its kind to be organized by Indus Business Academy. The event was organized on February 23, 2013 where eminent speakers around the world participated.
The theme for this event was 'Speaking the unspoken'. It implies the sharing of things that are not spoken in the real world till now. It is best to share what one feels since it is seldom that they are revealed. Therefore this theme provokes the need in one's life to cross the barriers & unleash a new set of thinking, so that it adds value to the lives that matter.
The speakers list was as follows:
Harish Bijoor
Peter Van Geit
Sonia Mackwani
Maya Sharma
Gursimran Khamba
Nikita Singh
Jasleen Royal
Poonam Bir Kasturi
Navin Gulia
Chef. Pankaj Bhadouria
The day witnessed the arrival of speakers & the subsequent tree plantation session by all the speakers.
The program started at 11:30 with anchoring done by Susanah Chand, batch 2012-14, followed with the opening speech by Dr. Subhash Sharma, Director IBA Bangalore. The opening speaker for the day was Mr. Harish Bijoor who talked about the theme in the context of marketing. The next speaker was followed by Mr. Peter van Geit, followed by Ms. Sonia Mackwani. There were some TED talks shown in the middle of the session complying with the TEDx norms.
Lunch at around 1 pm was announced which included a variety of dishes.
Post lunch, talks were held which was opened by Ms. Maya Sharma, then Mr. Gursimran Khamba, Ms. Nikita Singh, Ms. Poonam Bir Kasturi and Chef Pankaj Bhadouria. After this, the floor was opened for high tea with a break of 20 mins. Post high tea Ms. Jasleen Royal performed. The talks were closed by Mr. Navin Gulia who received a standing ovation for his motivational & inspirational speech.
After the talks ended, a brief vote of thanks was given by Susanah Chand & the closing of the ceremony was done by Mr. Manish Jain, CEO IBA Bangalore who very openly shared his experience of TEDx & the consequent preparations.
The entire team of TEDx IBA Bangalore was also called on stage for the recognition. This was followed by a brief mixing up of the audience with the speakers & photography sessions. The talks witnessed a variety of people & were heterogeneous in nature. The event saw participation from senior managers who had come from corporate houses such as Tupperware, ITC, Pesist, Oracle, Infosys, Ford Motors etc. Students from different colleges like SIBM Bangalore, IIM Trichy, Christ University, IFIM, IIM Bangalore, IIPM as well as IBA, faculty of IBA, people accompanying the speakers themselves & also people from abroad participated in the event.
For more information visit TEDx IBA Bangalore website.