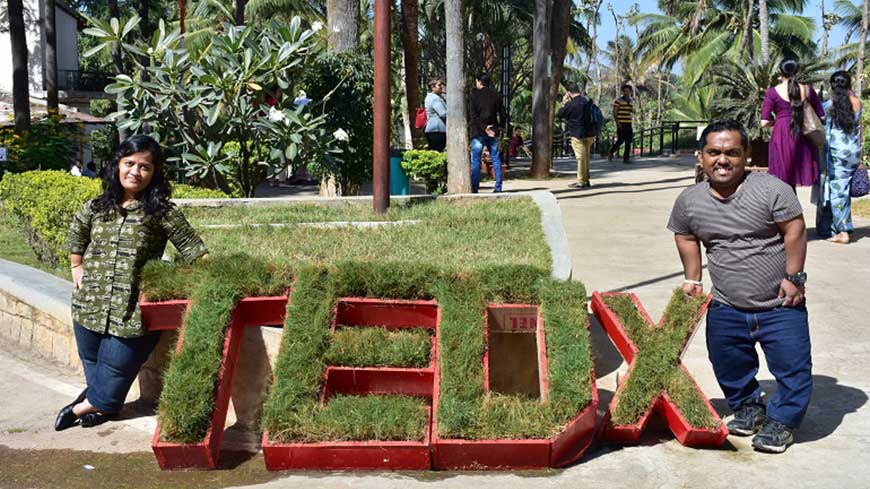 Theme: Impact on Society
Date: 19th January, 2019
Time: 11 AM to 7 PM
Venue: Indus Business Academy, Bangalore
The theme this time for TEDXIBABangalore was 'Impact on Society'. It implies the sharing of ideas that can better the society we live in and create an everlasting IMPACT ON SOCIETY… The society is comprised of us, made by us, shaped by us and gets impacted by us. Hence, we must never forget that just as a chain is formed out of several links, numerous individuals form a society. Even an individual act will have an impact on the rest of the individuals and the society, no matter how small or big and no matter positive or negative. Just like the ripple effect, where even a tiny drop of water causes ripples expanding across the water; smallest of the acts impact throughout the society incrementally.
In the spirit of ideas worth spreading, TEDx is a program of local, self-organized events that bring people together to share a TED like experience. TEDXIBABangalore was one of its kind event to be organized by Indus Business Academy. The event was organized on January 19, 2019 where eminent speakers from diverse fields participated.
The event witnessed the presence of eminent speakers such as:
Sandhya Suri – One of the Indian Navy's first woman officers to have served on board a warship
Anirban Banerjee – General Manager (Operations & Marketing) at Akhand Jyoti Eye Hospital (Largest eye hospital in Eastern India that is committed to eradicate curable blindness by empowering women in the low income states of India)
Shreegauri Sawant – Vicks Ad Mom, Transgender activist, Former Director – Sakhi Char Chowghi trust
Mark Dharmai – A dwarf but an International Para-Badminton player, Winner of several medals at multiple National & International level Para-Badminton competitions
Disha Pandya – A dwarf that is Creative Head at Sahajanand Life Science and a National level Para-Badminton player
Tejaswini Manogna – Finalist at Miss Diva Universe 2017 contest, Winner of Best cadet & Best shooter award at Army NCC, Yoga Practitioner and a Bharatnatyam artist
Swatii Chandak – Blogger at Light at the end of the Tunnel, Writer & Poet of multiple literary works that revolve around Women empowerment
Jyoti Sudhir – Chairperson for CII (Confederation of Indian Industry) – Indian Women's Network (Gujrat), Director & Co-Founder – InventIndia Innovations Pvt. Ltd.
Amitabh Shah – Founder of Yuva Unstoppable, Former Executive President of The Times of India Foundation & Founding Chairman for Gujrat Chamber of Commerce's Youth Wing
The program started at 11AM with anchoring done by Aamir Haroon and Anindita Adhikari, batch 2017-19. The opening speaker for the day was Ms. Sandhya who talked about people she had seen in her life creating impact and how those simple people have given direction to her life and the impact she wants to have on society. The next speaker was Mr. Anirban, followed by Shreegauri Sawant and then Mr. Mark. In betwenn a couple of TED talks were also shown in compliance to the TEDx norms.
Around 1:30PM Lunch break was announced along with which tree plantation by the speakers also took place.
Post lunch, the talks session was opened by Ms. Disha, followed by Dr. Tejaswini, Ms. Swatii, Ms. Jyoti and Mr. Amitabh. After the talks ended, a brief vote of thanks was given by Ms. Richa before the close and break for High tea.
The entire team of TEDx IBA Bangalore was also called on stage for the recognition. This was followed by a brief mixing up of the audience with the speakers & photography sessions. The talks witnessed a variety of people & were heterogeneous in nature. The event saw participation from corporate houses as well as students from different colleges as well as IBA, faculty & staff members of IBA, people accompanying the speakers themselves & also people from abroad.
Click here for all the photos.