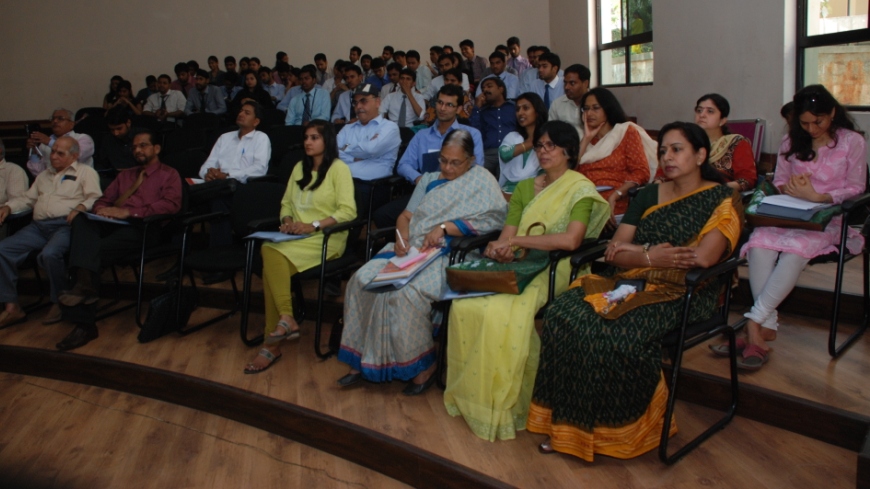 IIM Ahmedabad Alumni Association, Bangalore Chapter



Indus Business Academy
Bangalore

Indian Institute of Public Administration
Karnataka Regional Branch, Bangalore
An Interactive Dialogical Workshop on
Corporate Social Responsibility
Day & Date: Saturday, 22nd February, 2014
Time: 10.30 am
Venue: Indus Business Academy, Bangalore
| | | |
| --- | --- | --- |
| Dr. Subhash Sharma | Shri S. Ramanathan, IAS (Retd.) | Shri S. Viswanathan |
| Director | Chairman | President |
| IBA, Bangalore | IIPA, KRB, Bangalore | IIMA Alumni Association |
| | | Bangalore Chapter |
Workshop Objective
In the age of globalization, Corporations have started playing a dominant role in the society. While Friedman argued that Business of Business is Business, however, this ideology has undergone a change because Business and Society are intertwined. In fact the triad of Business, State and Society is undergoing a transformative relationship in the twenty first century. This triad represents three underlying forces shaping the nations and the world.  In a scenario where corporations play a dominant role in society, People have certain expectations from the Corporations. These expectations include Good Corporate Governance practices and certain amount of social orientation coupled with environmental concerns. This implies economic performance should be combined with social performance and environmental performance. Framework of triple bottom line in terms of Profit, People and Planet provides an overarching construct in this direction. As a result of such a social discourse, Corporate Social Responsibility (CSR) has emerged as a measure theme of concern for the Government, Corporates, People and social thinkers. Government of India has taken a major initiative in this direction through a new law.  As per this law, Companies with a net worth of more than Rs.500 crore or revenue of more than Rs.1,000 crore or net profit of more than Rs.5 crore have to spend 2% of their average net profit in the three preceding years towards CSR activities under the companies law. While non-compliance will not be penalized, companies will be required to disclose reasons for this, making this provision de facto mandatory.
Aim of this dialogical workshop is to debate and discuss the idea of CSR in terms of Private Public Community (PPC) participation in fulfilling Corporate Social Responsibility in creative ways so that there is a 'Win Win Win' situation for the Corporates, Government  and Society.
About IBA
Indus Business Academy (IBA- formerly Indian Business Academy) is a leading B School known for its innovative approaches to learning and knowledge creation. It has received international recognition through IACBE accreditation.
IBA's founding mission was to bring excellence in Teaching, Training, Corporate Networking and Placements. At IBA, students are groomed, not just as managers but as holistic individuals. It ensures emergence of positively charged individuals, ready to contribute to the growth of corporations and the welfare of the society.
'IBA' stands for three success mantras viz. Inspiration, Breakthrough and Achievement. At IBA, these three success mantras are represented by success formula viz. Success = Inspiration X Breakthrough X Achievement (S = I X B X A). Students of IBA imbibe these fundamental values and this has led to their success in various walks of life at the national and global levels. Learning at IBA is rooted in the 3 D model of Discussion, Dialogue and Discourse facilitating the development of Creative, Enlightened and Organic (CEO) leaders.
About IIPA and its Karnataka Regional Branch
Indian Institute of Public Administration (IIPA) was formally inaugurated by the first Prime Minister of India, Pandit Jawaharlal Nehru and he served as its President and guided and helped the IIPA to develop as a centre of excellence.  Main objective of IIPA is "to promote and provide for the study of public administration and economic and political science with special reference to public administration and the machinery of government and for educational purposes incidental thereto." Today IIPA is world renowned for its contributions to training, research and consultancy in the field of public administration.   Indian Journal of Public Administration published by IIPA is a leading journal in the field of public administration.
The Karnataka Regional Branch of the Indian Institute of Public Administration was established on 4th April 1957. The object of the Branch is to promote discussion and research on public administration through lectures, symposia, seminars, workshops, conferences etc.  In this respect Karnataka Regional Branch of IIPA is well known for its significant contributions in promoting discussion and research on public administration in the State of Karnataka.
About IIMA Alumni Association Bangalore Chapter
The IIMA Alumni Association Bangalore Chapter (IIMA AAB) is one of the most active associations, with an active membership of over 1500 alumni, affiliated to the parent organization IIMA Alumni Association, Ahmedabad. Their charter is to form a vibrant body that will facilitate networking of Alumni in Bangalore with each other as well as with other chapter members across India and in the rest of the world either independently or through the aegis of the parent association. IIMA AAB has been very active in promoting smaller monthly and larger quarterly get-togethers. They have also been very proactive in establishing academic – industry interfaces by promoting academic programs with educational institutions for the benefit of leaders in Industry. They have established close contacts and inter-linkages with IIM Bangalore and IIM Calcutta and have frequently conducted Pan IIM meets.