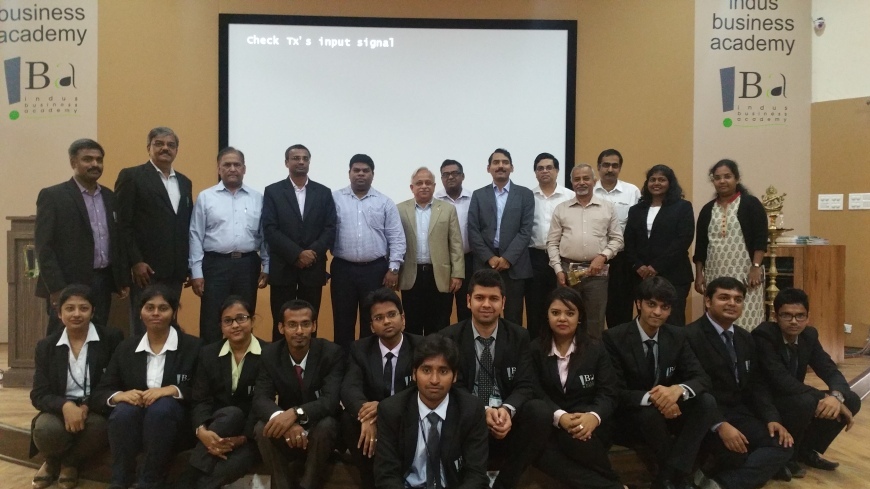 Date: 5th December 2015
The workshop was a result of collaborative by Prof. Muvva Butchi Babu, Asst. Professor – IBA Bangalore and ISACA – Bangalore Chapter. The workshop was specially designed with the aim of providing the right knowledge to the aspiring Cyber Security enthusiasts and the response from the students was overwhelming.
Established as the Information Systems Audit and Control Association, ISACA now goes by its acronym only. It was incorporated in 1969 by a small group of individuals as an independent, nonprofit, global association. ISACA engages in the development, adoption and use of globally accepted, industry-leading knowledge and practices for information systems. Among those present from ISACA Bangalore Chapter Executive committee included:
R V Raghu – President
Rajaraman Chakkarai – Vice President
Suresh G P – Secretary
Satish Kumar Dwibhashi – Treasurer
Vijaya Vanitha – Director Programs
Praveen Raja – Director Academic Coordination
Ananth Kumar – Direct CISA
K R Natarajan – Immediate Past President
Velmuruga Venkatesh – Director Research
Vaidyanathan Iyer – Director GRA
It was enlightening for the students to know the means of remaining safe while surfing, downloading, sending data across the internet and online transactions. The focal point of workshop was to provide all the key points that prevent one's account from being hacked and spreading awareness as well as importance of Cyber Security.
The key learnings for the students were:
How can one effectively prevent, detect and respond to the Cyber Security threats.
Highlighting popular attack tactics and recent attacks across the globe.
Best practices for implementing a security strategy to disrupt the attack chain.
Tips for capitalizing on increased security attention of executive management.
The most important outcome of the session was that it provided the students with an impetus to dive into the exciting world of IT and the opportunities available in the Cyber Security space.