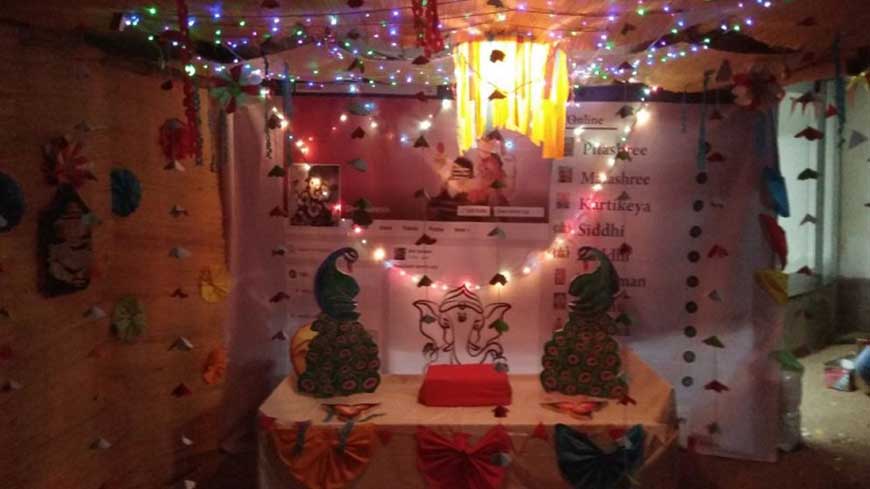 Ganesh Pooja
ऊँ वक्रतुण्ड़ महाकाय सूर्य कोटि समप्रभ।
निर्विघ्नं कुरू मे देव, सर्व कार्येषु सर्वदा।।
Date: 25th – 31st August, 2017,
One of the most auspicious festival in the Indian tradition, the Ganesh Chaturthi was celebrated this year at IBA, from 25th to 31st August, 2017. The charming festival has its own specialty as it is held every year in the lush green campus of IBA. Student's initiative towards the festival was very spontaneous and thrilling. All the members of the IBA family were highly enthusiastic and participative who were integrated with the festival by means of various events.
The celebration went for 7 days and in the duration students celebrated a lot of game plays and various other activities. Daily Arti & Pujas made the festival even more joyous and blissful. At the day of immersion the most attractive game in the Ganesh Chaturthi the "Laddu Bidding" was held. Like every year, the students' intent towards the enjoyment and wining was so high that the winning bid went as high as INR 10,001.
The immersion was really fun filled and enthusiastic with colors & gulaal. After all the celebration of Ganesh Chaturthi and the respect towards the Lord Ganesha was so beautiful and graceful that it touched everyone's heart and IBA again accomplished its prestigious reputation of celebrating festivities from every corner of our great nation.