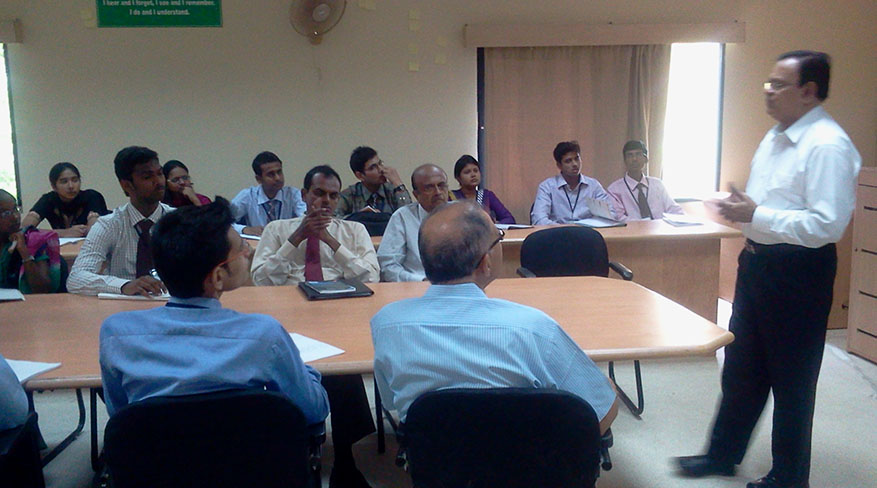 Date: 7th July 2014
Mr. Vrishabhendra Swamy – Vice President at ABB (India and South Africa). He has 38 years of handful of experience in the field of Design, Application, Order handling, Commissioning Engineer, Power Generation, Transmission, Automation Segment, AC/DC Drive System, High Power Rectifiers and Static Excitation System . He addressed IBA Students about Engineering Industry expectations from MBAs.
Mr. Swamy opened his talk by introducing himself and about the Organization to the audience. His topic of discussion was about six core values i.e., Creativity, Innovation, Continuous change, Business Ethics, Extrovertism and Attitude.
Mr. Swamy covered various concepts such as Individual Skills, Individual Goals, Perspective (Individual and Work Environment), Tuning in attitude from Student life to Business life, Code of Conduct, Time, Effort and Money. And gave example of ISO Auditors / ISO Inspection.
Mr. Swamy shared the experience how the ABB works for entry level. For fresher the company assigned various multi-tasking especially company concentrate on sales and marketing by providing various training like operations, testing, communication skills and every quarterly the company evaluate the performance of the employee.
He concluded his session by giving some suggestion on to be clear what best to do? How you will move from good to best? Example of Mr. Azim Premji (WIPRO) and ends the session with a bag of Knowledge and Experience Sharing.