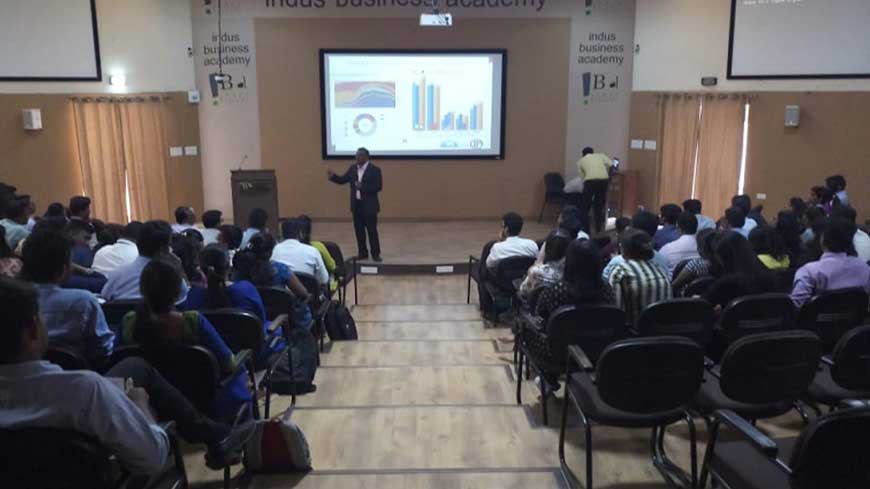 Guest Lecture – Mr. Raju Gundala
On 11th March 2019 a guest lecture was organised for students of batch 18-20. The topic for discussion was Entrepreneurship and Innovation, and it was indeed a very interactive session. The lecture was delivered by Mr. Raju Gundala, who is the founder of IPQC, MSMEonline.in. He has worked at leading B-Schools such as IFIM, Alliance as Assistant Professor and Associate Professor respectively. He coached many budding entrepreneurs on start-up ventures related to Analytics and IOT.
The lecture started with a simple question, what is the "need" for entrepreneurship with innovation in this era? And that undoubtedly was question which was there in many young minds among the audience. Mr. Gundala explained the need with raw facts like Economy size is going to increase 5 times by year 2030 (according to IMF and World Bank) and India has the biggest advantage of having the largest working population in the world. He also listed down key sectors for great opportunity in India:
Infrastructure (103 mm jobs)
Auto and auto components
Building and construction
Textile and clothing
Transport and logistics
Real estate services
Healthcare
Food Processing
Mr. Gundala also quoted "without Artificial Intelligence and Machine Learning nothing will work" and it is true, from Internet of Things to Simulation modelling Artificial Intelligence is much-needed. He also stated biggest opportunity for India lies in Electric vehicles as India is the most polluted country (Out of top 20 most polluted places, 15 are from India). He gave supporting explanation such as – Global Electric Vehicles Trends and Global Renewable Energy, he also added the importance of building a project proposal because in coming times "Project proposal for Renewable Energy" will turn out to be a gold mine. Mr. Raju helped the audience learn more about some Entrepreneurial traits through videos of some famous Entrepreneurs:
Ritesh Agarwal – Ritesh Agarwal is the young founder and CEO of OYO Rooms, the fastest growing network of hotels, offline and online. The current evaluation of OYO Rooms is over $400 million. OYO Rooms does nothing out of the box but provides travellers the coolest yet cheapest budget hotels.
Mustafa – PC Mustafa, the man behind the Rs. 100 crore idli and dosa batter brand, ID Fresh. A brand that has gone on to become a staple in every kitchen across India and the Middle-East. He fought against all odds to achieve the seemingly impossible with "The Power of Determination". Given below is the link for the video shown
https://www.youtube.com/watch?v=EsRhh5Jr_XM
Kiran Kumar – Kiran Kumar the person behind Lalithaa Jewellery Chennai who has over 20 years of experience in the bullion industry. Before he started this showroom he dealt with gold supplies, supplying gold to well-known jewellery showrooms in Chennai as well as around the country. He was also a successful exporter of gold worldwide. He pioneered the introduction of 916 BIS Hallmarked Gold Jewellery for the first time in India.
Next was Q & A session where the main topic of discussion was Entrepreneurial competition and its impact on Aggregate Model. The lecture turned out to be a beneficial one which helped students in understanding that Entrepreneur and Innovation is not just a mere science to apply it is an Art which will help our budding corporate ready students to have an enhanced and optimized decision-making for their future purposes. As a token of gratitude Prof. Butchi Babu Muvva bestowed Mr. Raju Gundala with IBA memento and bouquet followed by Vote of Thanks.