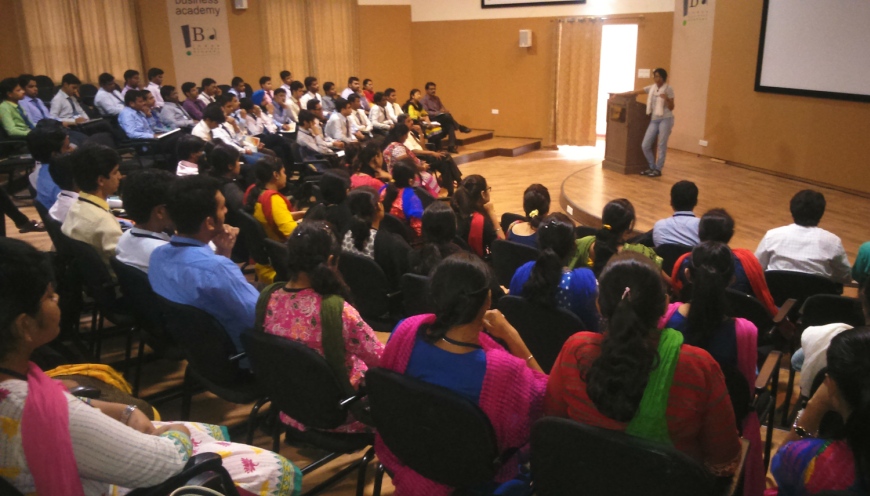 Date: 24th June 2015
Ms. Divya Sharda, RJ & Music Manager at Fever 104 FM (HT Media) had a session with the students regarding 'Media Industry and opportunities for an MBA in it'.
Ms. Divya started of the session with a quick exercise to students' attentiveness. She went on to give the students a brief history of Media industry and its growth. Subsequently she also enlightened them on various profiles like Media planner, Music Manager, RJs, etc. and work profile for an MBA as well. Ms. Divya later on also highlighted the essential qualities and skills required to work in a radio station. She also highlighted the functional role of HR in this industry.
Ms. Divya also emphasized on planning, creative ideas, content, soft skills, delegating and reporting. She went on to explain how any sort of wrong doing impacts in the media industry as it becomes a public issue and the challenges it poses in various forms of media. Answering to the question of a student, Ms. Divya briefed about the skills required pertaining to the radio industry. She stressed on marketing skills, Coordination skills and man management skills.
She also enlightened people on the concept of RAM check; which are referred to, for FM channel ratings; its assessment methodology as well as its flaws.
The program concluded with vote of thanks by the Ms. Paramita Chakraborty; a student of PGDM 15-17 Batch; and memento presentation by Prof. B.M. Gourish.