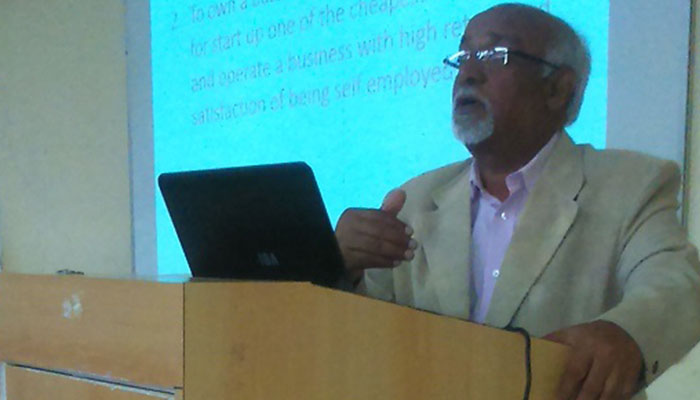 Date: 12th July 2014
Mr. Satish C. Amblee,CEO at Garuda Group of Malls graced the students of IBA with a talk on 'Introduction to Tourism Industry'. Mr. Satish has spent all of his professional life in the Tourism industry and has virtually scaled every function in it right from the bottom to top.
The session started off with Mr. Satish defining the Tourism industry to the students and explained that owing to its nature it comes out as overlap of many industries like the Food & Beverages, Hotel and Travel. He presented some astounding facts about travel & tourism around the world and elaborated that in spite of tremendous potential; India has a very low tourist turnover owing to poor Infrastructure growth as the core issue. As he explained that India has lot many destinations to attract tourists, but if proper accommodation is not available to them then the attraction is worthless! They will not come!
He then went to detail about hotels and how important component they are to the Tourism industry and the Gap analysis of Tourist vs Hotel rooms available in India. He revealed tourist figures for India and expressed shock that for every single tourist coming into India there are roughly more than 2 Indians going from India to other countries.
Towards the end he also emphasized on how the Industry is a major contributor to Employment generation as well. He showed that today it employs almost 39 lakh people out of which 50% have been in the past 5 years and by 2020 it is expected to generate a total of 76 lakh jobs. He ended the session by enlisting the various roles that an MBA can play in the Tourism industry.