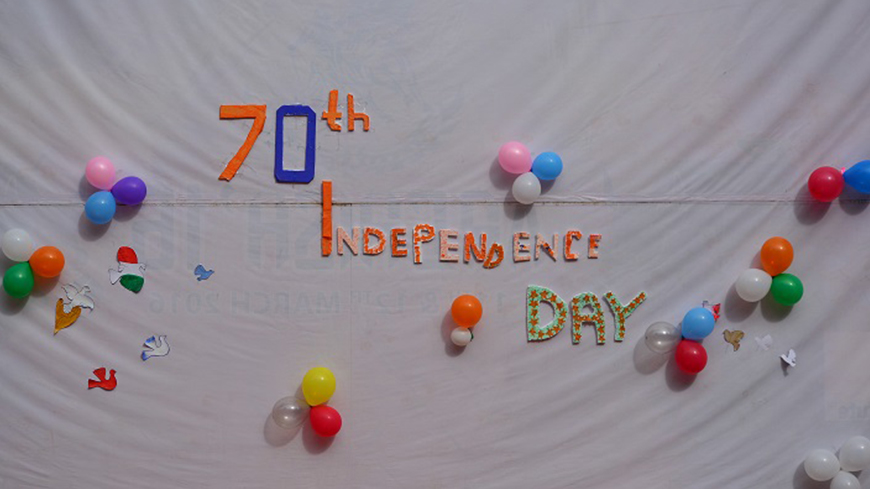 Independence Day
Date: 15th August 2016
Independence Day is an annual observance celebrated every year on the 15th of August in India. In accordance with the same spirit, Independence Day is celebrated with great joy and vigor every year at IBA. This year, Prime Minister Shri Narendra Modi had expressed the desire to make 70th Independence Day celebration exceptional, wherein the celebrations shall involve a six-day long 'Bharat Parv' festive at Raj path near India Gate in the National Capital beginning from 12th August 2016.
The IBA family also celebrated the 70th Independence Day with same spirit and energy. The program started at 9.00 AM with the flag hoisting ceremony followed by lighting of the lamp by Dr. Subhash Sharma, Director – IBA Bangalore and other present Faculty & Staff members. A melodious Saraswati Vandana was performed by students, which was followed by Dr. Subhash Sharma (Director – IBA Bangalore), Prof. Suresh V Chandra (Professor – IBA Bangalore) enlightening the students with their motivational speech. It was followed by students' performances on various patriotic songs and a short drama highlighting Indian society's present scenario. Later on, there was a speech competition that took place between the students, which Mr. Manu Sharma (Student – PGDM Batch 16-18) won comprehensively.
The event came to an end with the recital of National Anthem; thus instilling the patriotic feeling among the audience. But it was not the end for the day as students had organized sports competitions in line with the 'Bharat Parv' festivities; where both students and faculty/staff members took part. The day ended full of memories and smiling faces all over our mini India-Pura which will carry on as IBA's legacy.