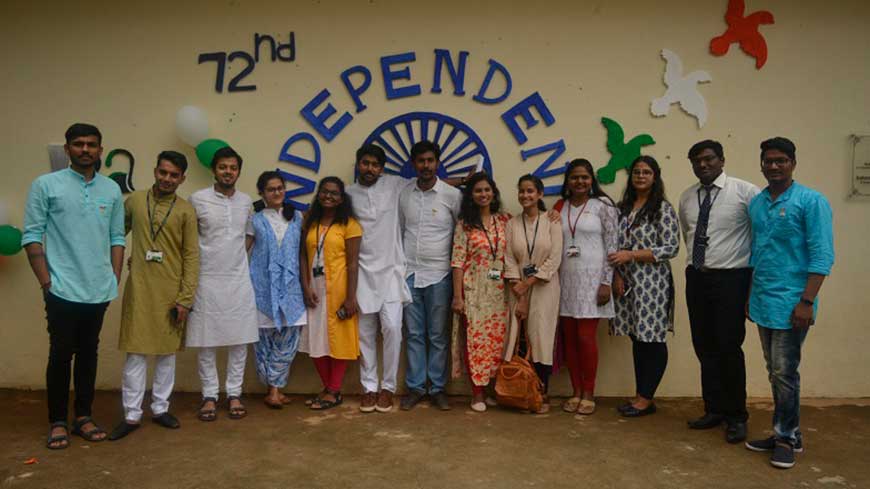 72nd Independence Day at IBA
Date: 15th August 2018
The 72nd Independence Day of India was celebrated at IBA under the presence of all dignitaries, faculty members and honourable Chief GuestS Col. K.C. Achappa (Retd.) and Col. Bheeman at Adarsh Memorial Auditorium, Indus Business Academy, Bangalore.
The programme started at 9:30 a.m. with the organising team addressing the audience regarding the auspicious day. At around 9:45 the Chief Guests along with our Director, Dr. Subhash Sharma and all other dignitaries hoisted our national flag. At 10 a.m. the programme started with Saraswati Vandana sung by Baishali after which, the traditional lamp lighting ceremony was done in which all the faculty members, dignitaries and guests were on the stage for lighting the lamp. Thereafter, Dr.Subhash Sharma addressed the gathering, which was followed by a speech from Col. K.C. Achappa. After this, there was a patriotic singing performance by Swagata, Gaurav, Vishal, Vinay and Aindrilla. It was followed by dance performance from Mukundha, Tina, Shreya, Balwant, Chaitali, Suman and Sonali. After their wonderful performance there was a speech completion among Deepti, Anushree, Chirag, and Sachin. Everyone did a splendid job but in the end, Deepti was adjudged the winner. She received a winner's certificate from the honourable guest Col. K.C. Achappa. In between the speech competition there was another singing performance by Smriti, Vigesh, Sugandha, Ramya and somnath. After the speech competition there was a certificate distribution from Dr. Nandeesh sir to all the coordinators & participants of "Interactive Open Workshop on Effectuation Principles", which had been organised by IBA. This was followed by Dr. Ramesh addressing the audience with his thoughtful words. After this there was a singing performance by Mayurina bera and Swetlana hazra which was followed by Ms. Anindita Adhikari performing a short story reading through which she brought a serious message in front of the audience. Then to everyone's surprise there was a singing performance by Prof. Nagendra Hegde and Somnath Goswami after which Mr. Praveen Kumar delivered his speech to the audience. After his speech there was a dance performance by team Mudra (Shreya, Priyanka and Mansi) from 17-19 batch. Then there was a skit performance which featured a serious issue that plagues India with a pinch of comedy. At the end Ms. Anandita adhikari gave the vote of thanks with which the programme came to an end.
The event concluded with the Chief Guests, Col. K.C. Achappa (Retd.) and Col. Bheeman planting along with Dr. Subhash Sharma, Mr. Manish Jain and Dr. Nandeesh.