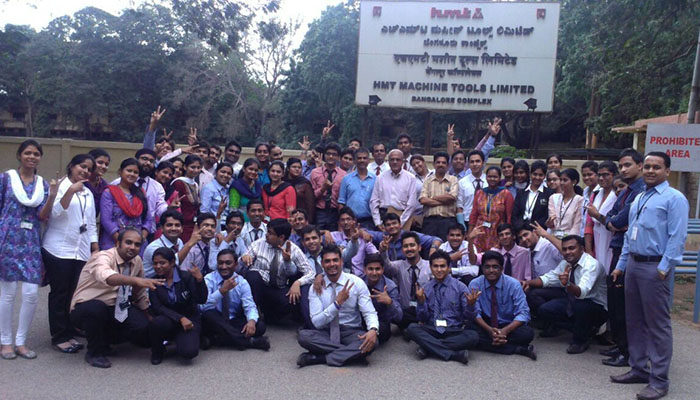 Date: 2nd Sept. 2014
HMT Machine Tools
The students of IBA went for a visit to HMT Machine Tools on the 2nd of Sept. 2014. They were received by Mr. Swamy (Training Centre In-charge) on arrival and briefed about the rules & regulations which they were expected to follow within the premises. The students were then led to the International Training Centre where they met Mr. Rajendra (International Training Centre In-charge) and his subordinates. Mr. Rajendra then briefed the students about history of HMT and the Industry in which it once had a monopoly; the Machine Tools industry.
The students were then divided into 3 batches which were led by apprentices at HMT for detailing about the machines and operations at various work stations in the factory. In between the students also had lunch arranged by HMT staff at their mess.
Towards the end of their visit the students also had a Q & A session with Mr. Swamy, Mr. Rajendra and Mr. Kumarswamy, DGM-Marketing (Sales) where the students asked them questions about Safety at workstations, the market where HMT operates, operation strategy of HMT and future targets and strategies of HMT.
The visit came to an end with Mr. Abhijit SonI (student of PGDM Batch 14-16 at IBA) presenting the Vote of Thanks on behalf of his batch to everyone who was responsible for making this visit possible and such a fruitful learning experience.