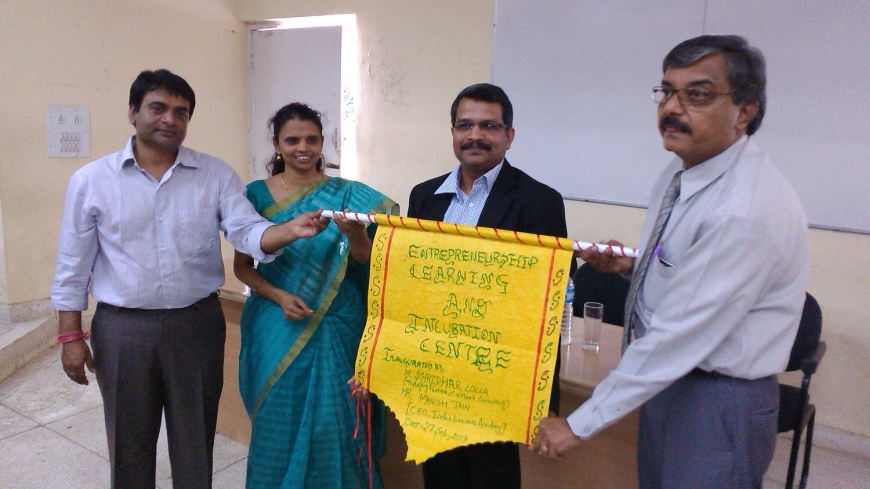 Indus Business Academy, Bangalore has launched their 6th Center of Excellence for entrepreneurship development named "Entrepreneurship Learning and Incubation Center (ELIC)" on 27-9-2013. The other centre of Excellence aims towards Faculty Research & publications and training & development programmes.
The center was inaugurated by Dr. Shridhar Lolla, Managing Partner, CVMark Consulting. He is a Practitioner of Operational Excellence and has authored two books namely "Building Manufacturing Competitiveness – The TOC Way" and "The Path – Leveraging Operations in a Complex and Chaotic World", which was co-created by 118 practitioners.
Mr. M.S Ramachandra, Principal – IBA introduced the chief guest to the students and gave his views on ELIC and advised the students to utilize this opportunity to gain practical knowledge and exposure and mold themselves as entrepreneurs. Mr. Manish Jain, Founder & CEO, IBA described his way f Entrepreneurial approach and idea behind this center.
Mr. Sridhar lectured the students on entrepreneurship and emphasized that students should cultivate the entrepreneurial spirit in them. He also gave his views on what are the challenges in establishing a business and about what motivates today's youth towards entrepreneurship. Students were enthusiastic during the question – answer session with Mr. Sridhar. He answered on various topics related to motivational factors, social enterprises and passion.
The event progressed with Prof. K. N. Veena, Faculty – IBA illustrated the objectives and activities planned for ELIC. ELIC is formed to promote and encourage entrepreneurship among students. ELIC's mission is to inculcate Intrapreneurial attitude among the students. ELIC plans to collaborate with many start-ups and small businesses to help them in their business by providing IBA students.