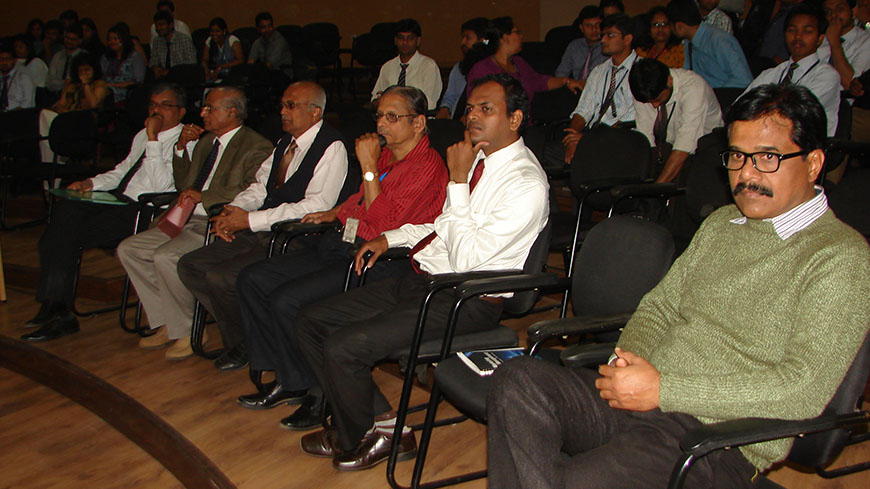 Date: 27th November 2014
Launch of IBA Marketing Forum
Indus Business Academy (IBA), Bangalore organized a Workshop on "My 50 years in Marketing" on 21st March 2014 wherein an eminent Marketing scholar Dr. Madhav Kacker took the audience through his Marketing career spanning over 50 years. The session was of great significance to all, since the speaker had witnessed the developments in Marketing field more than anyone else did. During his presentation he observed there is no active Marketing body in India which can promote and develop the Marketing ideas; he even wished that IBA can initiate to work towards forming one.
That is when Dr. Subhash Sharma, Director, IBA Bangalore suggested the formation of a Marketing Forum in IBA, Bangalore. The marketing faculty along with the guidance of Director decided unanimously to name this forum as "Indus Business Academy Marketing Forum (IBAMF)". All the faculty members deliberated and discussed on the functioning of this Marketing Forum, Vision, objectives and activities of the Forum. The entire IBA, Bangalore faculty fraternity are the founding members of IBAMF. We believe this is just a step ahead to realize the wish of Dr. Madhav Kacker.
Vision
To function as a unique forum in Marketing in India by its existence through the activities it conducts; to take the Marketing ideas and innovation to national and global level to benefit the stakeholders; the students, faculty members and most importantly Indus Business Academy (IBA) itself.
Objectives
To work towards minimizing the gap between the existing theories and practice by sharing ideas, by holding brainstorming sessions/seminars, by arranging workshops which give a common platform for scholars and practitioners.
To ensure academic-industry interface as part of the continuous learning process in Marketing, which hone students' academic skills by immersing themselves with marketing practices.
To promote the Marketing Faculty Development Programs aiming to develop the prowess of marketing faculty.
The event started off with Dr. Subhash Sharma addressing the audience which was followed with keynote address by Prof. Mithileshwar Jha, Professor in Marketing, IIM Bangalore. His address was followed up by Panel Discussion on "New Age Marketing in Indian context".
Sub Theme
Impact of Social Media on product life, Branding and New product commercialization.
Digital revolution and the changing landscapes of retailing.
Big data analytics in marketing: is it really possible to predict future?
Consumer behaviour in digital era and its impact on elements of Marketing.