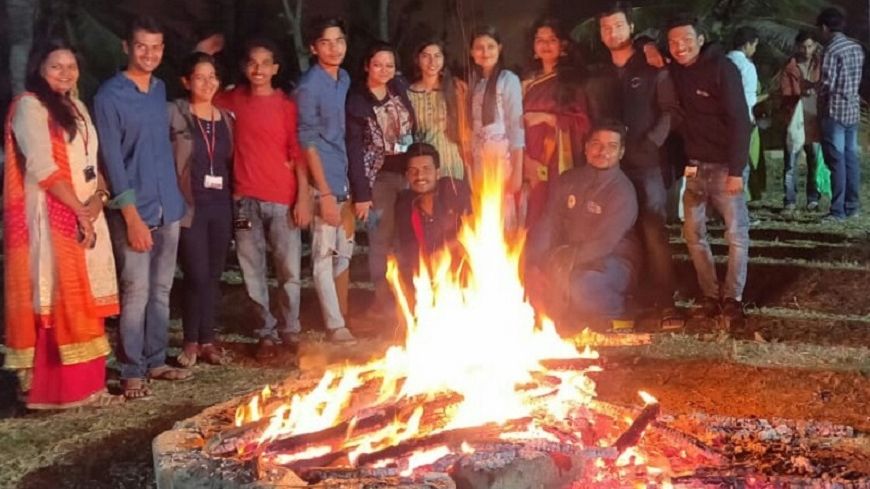 Lohri, the Punjabi harvest festival, was on January 13 this year. It is a celebration of the winter crop season. Sun deity, Surya, is also worshiped on this day. Lohri is observed just a night before Makar Sankranti, a festival that marks the end of the month with the winter solstice and beginning of longer days. Lohri is a festival mainly celebrated by the Hindu and the Sikh communities and a holy bonfire is lit, which signifies passing of the winter solstice.
This festival denotes the harvesting of the Rabi crops and hence all the farmers get together in order to thank god for giving them a wonderful harvest. The rituals related to Lohri symbolize the attachment of the people with Mother Nature. A few days before the festival, youngsters get together in groups and go round their localities singing folk songs.
At IBA just like all the festivals, Lohri was celebrated with great exuberance on 13th of January, 2019. On 13th night everyone gathered around the bonfire where Sachin Tiwari (Batch 18-20) shared the tale of Dulla Bhatti and few other beliefs behind celebrating Lohri.
Later on, everyone chanted the mantras and offered puffed rice, popcorn, peanuts and revri (a sweet delicacy made out of jaggery and sesame seed) to the fire while taking rounds around it.
Each and every one of the students and staff danced to the Punjabi beats played on dhol and as the celebrations came to an end, students released the sky lanterns into the night sky with hopes of prosperous year. The night ended with sweet smiles on everyone's face.