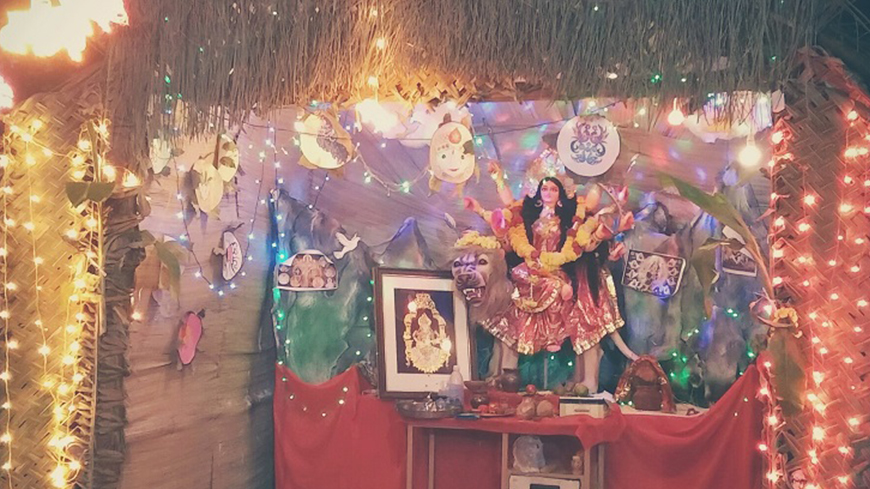 Navratri is an Indian festival which in recent years, people in every corner of India celebrate nowadays. At IBA also, students of both the batches came together to organise and celebrate Navratri with the same energy and enthusiasm by following all the traditional rituals; right from sthapana of Maa Durga's idol to the day of visarjan.
Students along with staff members of IBA, started preparing the pandal and decorating it two days prior to sthapna for making it a grand celebration. The sthapana of the idol was done by the CEO, Mr. Manish Jain, subsequent to which, daily aarti and prayers were done by the students along with the Faculty & Staff members. During these days, daily prasad was offered to Maa-Durga which was afterwards distributed among everyone. It was hard to believe for certain people; who were missing their home; that such an immaculate celebration was possible so far away from their homes.
The highlight of this celebration was the Dandiya night on Navami (the ninth day of this festival) in which students participated and enjoyed with DJ on the floor, along with beautiful lights and crackers lighting up the dark sky. The next day as it was Dussehra, there was a Ramayana role play done by the students of 16-18 batch under the guidance of their seniors, the students of 15-17 batch. The event came to an end, with the ritual of Ravan Dahan; the preparation for which were done by the student themselves. On the last day, as per the tradition and rituals, visarjan of the idol of Maa-Durga was done in a grand way with bursting crackers and playing colour. This festival will surely remain forever etched in memories of all, symbolising togetherness and enjoyment like a one big family.