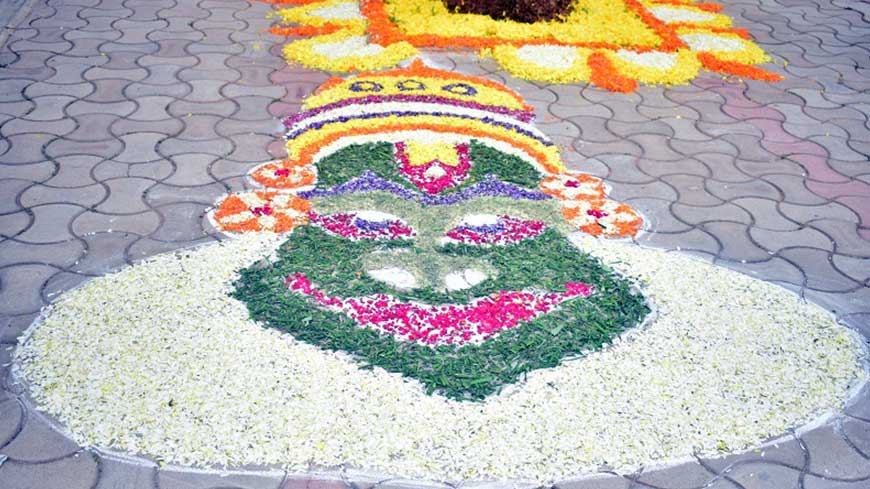 Date: 10th September 2018
Onam is the biggest and the most important festival of the state of Kerala. It is also the festival that is celebrated with great pomp and show at IBA. As the story goes, it was during the reign of mighty asura (demon) king 'Mahabali' that Kerala witnessed its golden era. Everyone was happy and prosperous and king was highly regarded by his subjects. Apart from all his virtues, Mahabali had one shortcoming, he was egoistic! This weakness in Mahabali's character was utilized by Gods to bring an end to his reign. However, for all the good deed done by Mahabali, God granted him a boon that he could annually visit his people with whom he was so attached.
Like every year at IBA, the decorations for Onam started the evening before the day of celebration. Lots of flowers of different colours were bought by the procurement team. The decoration team assembled in the mess at 10PM and started plucking the petals from the flower for 'Pookallam'. The cooking team were busy in cutting the vegetables for the lunch on the Onam day. In total 4 Pookallams were made. One inside Santripti (Mess BUILDING), one at the entrance of Santripti and the remaining two in front of the administration block. For decoration, coconut leaves were also bought. They were tied to a rope and fixed at the entrance of Santripti. The decoration went on up to 4-5AM in the morning.
The cooking team were ready with their vegetables to cook. The mess opened at 6AM on the day of Onam, and our cooking team started the work in no time. They prepared 18 items in total for the lunch. They did a fabulous job by completing everything in time.
The lunch started at 1PM. M Lokesh became the Mahabali. In total 450-500 people had lunch. The main thing was that all the things were arranged and managed so well that everyone appreciated.
The celebration was indeed a successful one thanks to the organizing YMCC team with support and guidance of their Mentor, Mr. Manish Jain.